April 4, 2013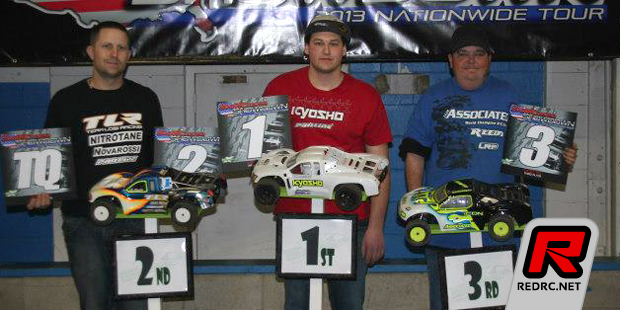 The second stop of the 2013 Short Course Showdown Nationwide Tour took place at one of New England's finest indoor racing facilities, the one and only R/C Excitement. Just under 200 entries consisting of some of the nation's best short course racers gathered in the small town of Fitchburg, Massachusetts for some BIG time racing. Local racers including TLR's Anthony Mazzara and Toddie Anderson set to do battle against "the travellers" consisting of TLR's Matt Chambers, Team Associated's Brian Kinwald, JConcept's Dave Duncan, AKA's Greg Hodapp, LiveRC's Mike Garrison, and many others.

The RCE facility provided an excellent racing layout which gave racers the opportunity to go fast, be technical, make clean passes, and catch big air. Spectators and customers of the RCE hobby shop quickly gathered as the racing got under way on Saturday, lining the track walls for nearly every heat of heads up qualifying, all the way to the mains. As always, the signature Scotty Ernst Productions spectator and racer raffles were hosted on Saturday and Sunday. Thanks to all of this year's amazing sponsors, three lucky spectators went home with their very own R/C cars and nearly every racer in the house went home carrying goodies of their own. The racing was intense from start to finish, with epic battles and wheel-to-wheel action all weekend long.
In Mod 2wd SCT, Anthony Mazzara would start out front as he took a dominant TQ in qualifying. It was Kyosho driver, Kyle Rhodes, who would jump out into the early lead and cruise to a solid victory over Mazzara and Kinwald. Rhodes was the only driver to dip down into the 16-second lap range in the main event, and was clearly on rails. Mazzara and Kinwald were seperated from the field as well allowing them to cruise to a second and third overall behind Rhodes.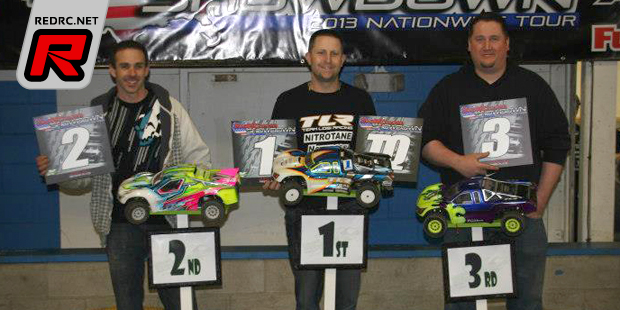 In Mod 4wd SCT it was all Anthony Mazzara. Mazzara, running the TLR SCTE 2.0, jumped out front early and never looked back. Teammate Matt Chambers looked strong as well, but struggled with traffic dropping him back in the pack. Local racer, Jim Edmonds, would pilot his ride to a second place finish a lap back from the leader and five seconds ahead of Carl Doran in third.
The Novice class A-Main was perhaps some of the most intense racing we have seen. The entire field was banging wheels and swapping positions for those top spots. Justin Miner and Caleb Jennings would swap the lead back and forth crossing the line only nine tenths of a second apart at the finish. Miner took the win with Jennings in second and Lancaster in third. Matt Pritchard and Kody Bartkus were also in the mix, but misfortune ended their races early with a DNF.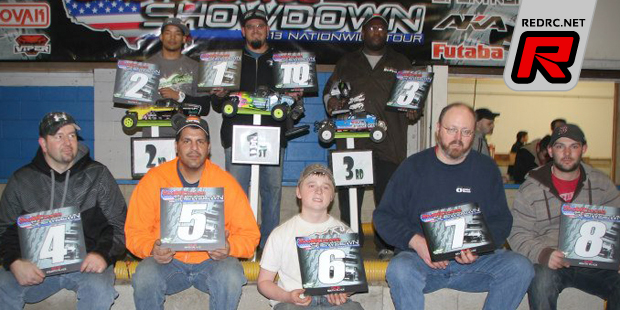 Short Course Buggy is a growing class and attracting some major talent. At R/C Excitement, it was none other than our good friend "Double Dee" Dave Duncan of JConcepts who would dominate qualifying and the A-Main. Duncan was spotted running the latest in JConcepts wheels, tires, and SCB body. Kevin McDaniel drove a strong race finishing up second with Steve Jean Charles only seconds back in third.
Stock Short Course was all Anthony Mazzara. Mazzara (TQ in stock, mod, and 4wd), started out front and drove a clean race for the win. In second, it was Team Associated/JConcepts driver, Dave "Double Dee" Duncan, who would finish up a strong second place with Jerry Longobardi finishing up in third.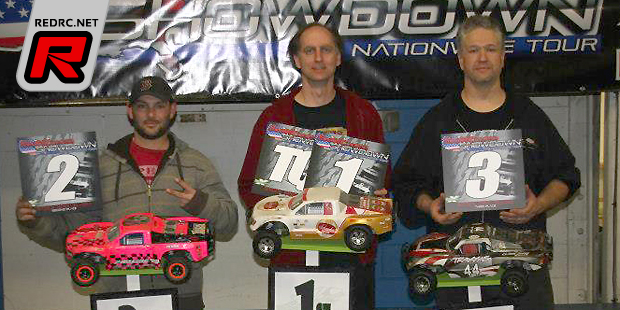 Traxxas Slash 2wd Spec was dominated by Kregg Kerr. Kregg did not have fast lap of the race, but was nearly flawless, taking him to victory by 15 seconds over Frank Sweeney and Al Clark. Megan Meany started in the number two spot, and was clearly in the running for the win racing the boys, but after a few struggles finished up in 4th.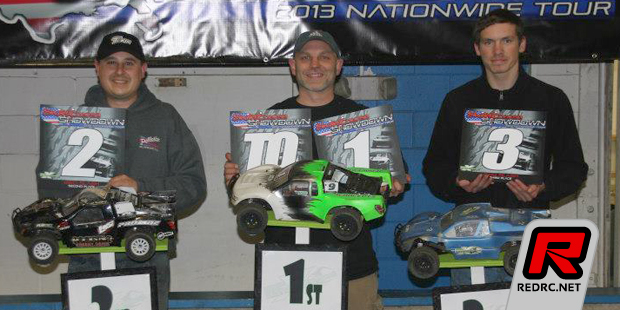 Traxxas Slash 4×4 Spec class was the Bill Gajowski show as he stormed qualifying to take TQ, and the overall win by over 12 seconds in the main. Brad Pelletier and Matthew Surer drove smooth and consistent jumping from mid-pack up to the podium for second and third overall. The event was a huge success thanks to all of the racers, sponsors, and everyone involved. The Short Course Showdown Nationwide Tour now gets set to invade Milwaukee, Wisconsin as stop number three is April 19-21, 2013 at Trackside.
Thanks to Mike Garrison for sending the report.
---