May 22, 2013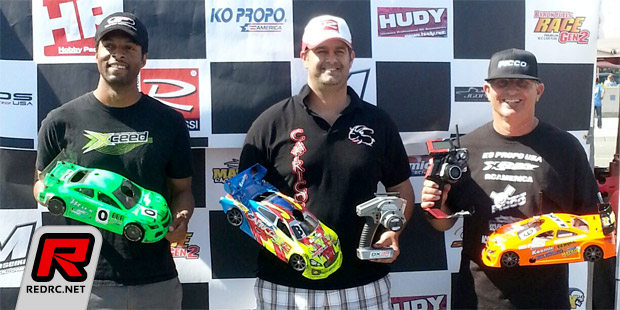 DJ Apolaro report from last weekend's Annual KO Grand Prix Race in California where there was a very good turn out with the Nationals being later this year at the same track. 'They must have had over 140 racers between all classes. Kenny Ives and myself showed up Friday morning like most of the out of towner's to practice and they also run 1 qualifier on Friday as well. My 1/8 scale felt really good from the start and my sedan was needing some work. With racers like Swauger, Burch, Paolo and others, it was a good time to see how our package compared and what we needed to improve. For sure the racers that make 5 minutes have a great advantage. In sedan I had no issues with run time, but with 1/8 scale the stars had to align to make this happen.
I did find an engine that did it and still had good power, so I ran it for the first run and was able to take TQ for the first round. In preparation for the Nationals I decided to take the motor out and not run it for the rest of the event and to save it for the Nationals later in the year. In sedan it was a 3 way battle for TQ and I rolled my car. This gave Swauger the over night TQ for Sedan with Burch running out of fuel. Come Saturday I made some changes to my sedan and they made the car a lot worse to drive. No rear bite and pushed going into the turn. So I went back to my normal set up. By the end of qualifying I was 3rd for sedan.  In 1/8 scale my time stood for a couple of runs. In the end Swauger got the TQ by 1 second with Burch behind me by leas than 1 second, so things where tight in 1/8 scale as well.
In the finals for sedan I got a good jump and was right with Swauger. I tried to make a pass early and I got spun around. This allowed him to get a little space. We kept this space for most of the race, being within a couple of seconds every lap. We where pretty close the entire race and with about 8-10 minutes to go, he had an issues and this allowed me to relax. We had a larger lead over the rest of the field, so I just made sure not to have issues and bring home the win.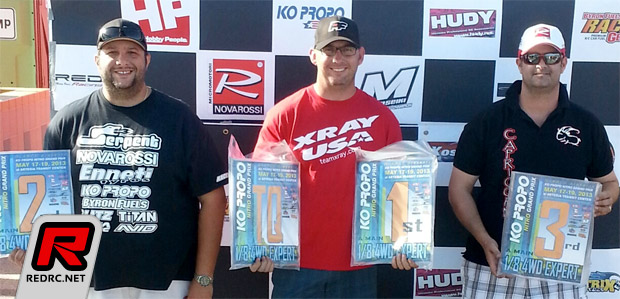 In 1/8 scale the start was very clean and Swauger and I pulled away from the field pretty quick. It was a close race and Swauger made a small error and this allowed me to get by. I was able to maintain that lead and with fast pits and my car working well, I was able to stretch out a little bit. Then we had a pit issue and it was a race again. At this point we would change leads with Swauger, Paolo and myself depending on pits.  Then I made a mistake and clipped a curb and got flipped on my lid. I lost about 3/4 of a lap and this really killed my chances. I just drove as hard as I could in hopes that they would have trouble or something. I gained a little ground, but not enough. Then Paolo and Swauger got together and I was able to catch Paolo, then it was a battle for us. I had to pit a little early and so with stretching the fuel I ended up running out on the last lap. So Swauger took the win, Paolo 2nd and myself 3rd. It was a great race for the entire 30 minutes and I think the crowd had fun.'
Source: Capricorn [capricornrc.com]
---