May 4, 2013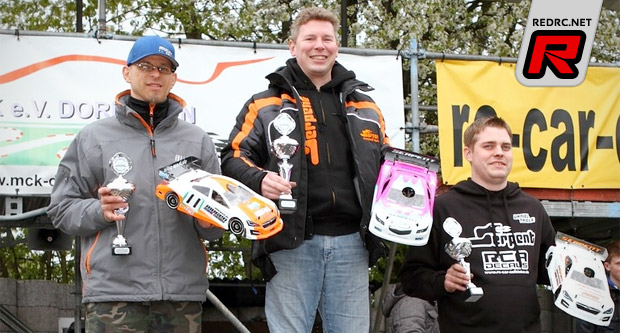 Last weekend MCK Dormagen was host for the 2nd round of the West-German championships and Daniel Thiele gave this report. 'As already seen 2 weeks ago at Rd1 in Bad Breisig, 1/10 and 1/8 were driven on the same weekend. With 30 drivers in 1/10 200mm and 40 in 1/8 class 1+2, it was a really interesting weekend. On Saturday we started with a basic setup with the team working really close to work out the best setup as possible. Due to the high amount of starters and the difference in performance between 1/8 and 1/10, the race director decided to divide training into time block of 20 min. each.
Between each run, we talked about what to change and what to try so we had a really good structure in testing everything which was very efficient. In the evening it was no surprise that everybody was happy with his car.
Sunday started with 3 rounds qualifying, with the best of the 5 minutes runs to count.
Top 6 1/10 200mm
1. Rene Püpke – Serpent 747/Xceed ZX12
2. Daniel Thiele – Serpent 747/Xceed ZX12
3. Benjamin Lehmann – Serpent 747/Xceed ZX12
4. Tobias Hepp
5. Marc Fischer – Serpent 747/Xceed ZX12
6. Arndt Bernhard – Serpent 747/Xceed ZX12
1/8 class 1
1. Michael Salven – Serpent 977/Xceed ZX21
2. Frank Schewiola
3. Thilo Tödtmann
4. Karl-Heinz Meister – Serpent 977/Xceed ZX21
5. Merlin Depta – Serpent 977/Xceed ZX21
6. Tobias Hepp
After the 3 rounds of qualifying, the grip-level had increased significantly which made some drivers think about their tire choice for the quarter and semi-finals. There was no traction roll, but the normal white rims were just too soft which resulted in a loose rear end after about 3-5 minutes, depending on driving style. Rene, who hadn´t had those issues, was using carbon rims, so we all decided to switch to carbon rims as well. Keeping the tire hardness the same, afterwards, everybody said that this was obviously the right choice.
Final 1/10:
Right from the start it was Rene, who started from TQ spot, who lead the field with Arndt Bernhardt, Tobias Hepp, Daniel Thiele and Michael Salven right behind. Up to the 10 minute mark, the Top 4 were in the same lap! Rene who was able to lead with a 10 seconds gap, then had to retire due to a loose engine which resulted in a stripped 1st gear. From that point on, Arndt Bernhardt was leading the field with Tobi Hepp and Daniel Thiele right behind him. All three drove a really save race without touching each other. After 20 Minutes, Tobi also had some issues which let him drive to the pits. The order: Arndt, Daniel, Dieter Fleischer and Michael.
By only the two up front were in the same lap with a gap of about 9 seconds. After the last pit stop, Benny Lehmann, mechanic of Daniel, said "push push push!". 2,5 minutes left, the gap was about 4 seconds but then also Daniel had to retire due to a stripped first gear. Dieter Fleischer was able to take second spot with Daniel on third. Arndt drove a really safe race and won by 2 laps in front of Dieter Fleischer.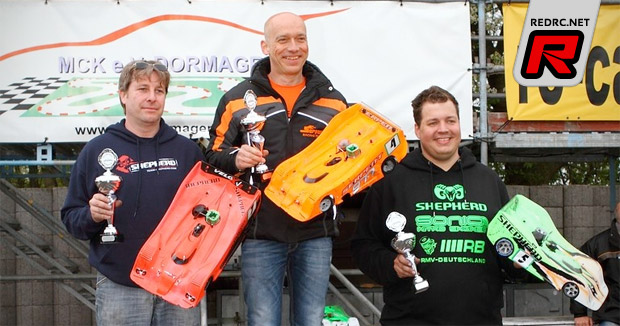 Final 1/8:
In 1/8, the final wasn't that exciting. Michael was leading from start to finish with an overall gap of 5 laps ahead of Frank Schewiola. Karl-Heinz who also had a really fast car, was hit by another and had to retire in lap 1. Christian Wurst was able to take 4th spot with Merlin finishing on 6th position.'
Source: Serpent [serpent.com] / Images: Dieter Fleischer
---