May 27, 2013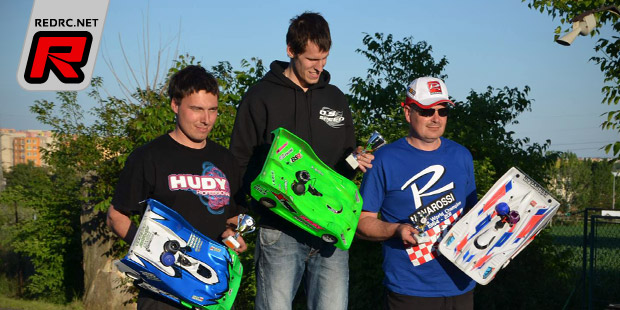 The first round of the Czech nitro on-road nationals was hosted by the Brno  Bosonohy club. The weekend also saw the second round of the Nitro Czech Cup which is run as a replacement for the Kyosho World Cup. With some 50 racers in four classes attending everyone was looking for some serious racing action and after overnight rain qualifying started with the NCC Stock class that is run with Sonic Pro Stock engines. Richard Škola took TQ with 29 laps, 1 lap ahead of Alexander Žvak, with Roman Hradecký taking third and Zbyněk Krasl fourth respectively. In the 1/10th class the Jansa brothers once again excelled on their home track with Michal taking TQ followed by Pavel. Michal Abrahamek qualified third with Tomáš Cibulka in tow. Jiří Vyšín took fifth place. The 1/8th class was lead by Michal Abrahamek followed by Martin Zvara junior and Martin Zvara senior. In the Veterans class, run with vintage cars, Zdeněk Svidrnoch tool TQ followed by Dvořák Ondra and Číp Jarda.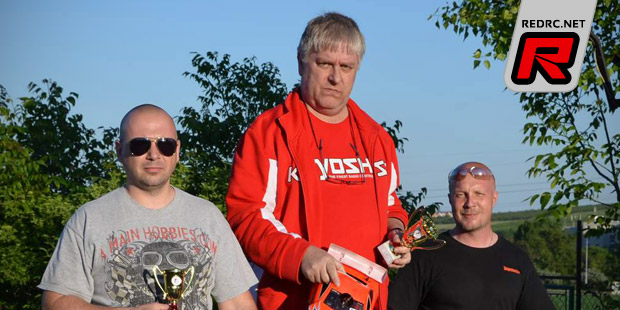 The final of the 1/10th NCC Stock class saw a great battle between the four direct qualifiers until the 20 minutes mark. Technical problems let TQ Richard Škola dropping back the field and he ended up in 6th place overall. Last year's class winner Zbyněk Krasl on the other hand was able to build a huge gap and finished some 9 laps ahead of Roman Hradecky. Alexander Žvak finished third only one lap behind Roman.
Top 5 1/10th NCC
1. Krasl Zbyněk
2. Hradecký Roman
3. Žvak Alexandr
4. Zagora Michael
5. Groch Oldřich
The 30 minutes long 1:8 final saw a fight between Michal Abrahámek and Martin Zvara jun. Like in the other classes technical issues played a major role and so Martin, who was leading at some point, had to retire due to a broken one-way bearing. This handed Michal an easy win from David Čermák in 2nd place. Miroslav Jurenka completed the podium.
Top 5 1/8th
1. Abrahámek Michal
2. Čermák David
3. Jurenka Miroslav
4. Dohnal David
5. Surý Petr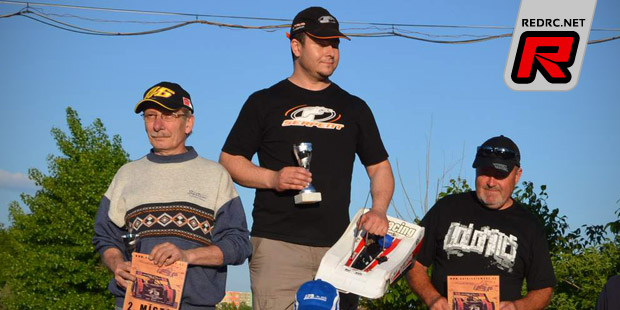 The 1/8th Veterans class also had a 30 minutes long final and speculations that only a fraction of the 11 cars field would see the chequered flag proofed to be wrong. TQ Zdeněk Svidrnoch took an easy win but the fight was on for the remaining podium spots.  After half an hour Standa Čech in second and Jarda Beran in third both scored 81 laps with 4th placed Ondra Dvořák finishing only one lap down.
1/8th Veterans
1. Svidrnoch Zdeněk
2. Čech Standa
3. Beran Jarda
4. Dvořák Ondra
5. Míča Zdeněk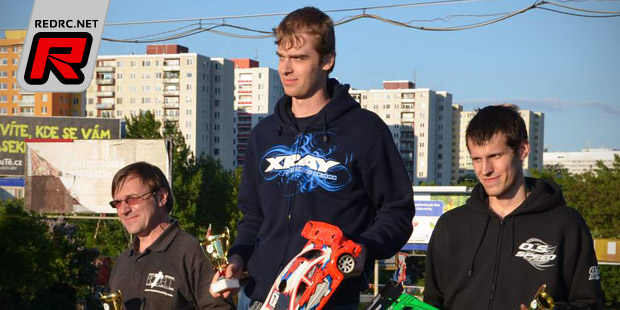 The 1/10th Czech championship was the final race of the weekend and once again technical issues made for an early decision. Last year's champion Michal Blahovský had to retire just four minutes into the race. The Jansa brothers lead the pack from the start and it looked like they would make the double. Especially Michal looked fast and was able to build an early one lap gap to the remainder of the field. But then disaster stoke for Pavel who suffered a brake issue. His pit crew was able to fix the problem but the gap was too big to catch the frontrunners again. Next up it was Michal who ran into problems with bearing failures. A mistake-free run moved Ondřej Kulhánek into the front position where he stayed until the chequered flag. Michal Abrahámek and Drahoslav Hejtmánek fought for second place with the better end for Drahoslav who took profit of a last lap driving error by Michal. Svatopluk Hájek and Ondřej Čechura completed the top five.
Top five 1/10th
1. Kulhánek Ondřej  185
2. Hejtmánek Drahoslav 180
3. Abrahámek Michal 180
4. Hájek Svatopluk 169
5. Čechura Ondřej 159
Thanks to Michael Zagora for sending the report.
---