May 7, 2013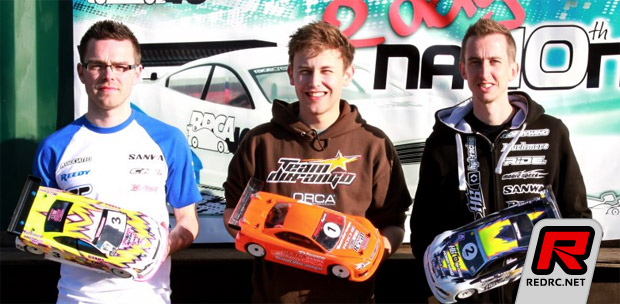 The 2013 BRCA electric touring car championship kicked off this past weekend at the fantastic Cotswolds track at Kemble airfield with a full entry. Returning for this years championship was the two class format, comprising of the 13.5 boosted 'pro stock' class and the ever so fast 'super touring' class. In the Super Touring class it was the pre event favourite Elliot Harper who took TQ honours with the new Durango touring car still in prototype stages, followed by HB/HPI's 2006 World Champion Andy Moore and the current BRCA Champion driving for Team Associated Olly Jefferies. Multiple UK champion Chris Grainger driving the new Schumacher Mi5 had a weekend he would like to forget, having being plagued with bad luck during qualifying which meant he didn't feature in the A-Main. The finals were ever so fast with Elliot and Andy breaking away from the group with Olly not too far behind them. After three legs it was Elliot Harper that took victory followed by Andy and Olly.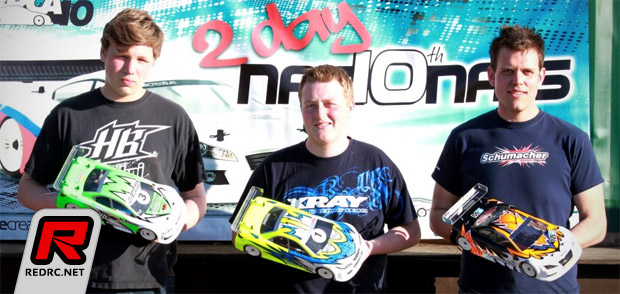 In the Pro Stock class it was Team Xray/RC Disco driver Zak Finlay who took the TQ and win having drove flawlessly in all 3 legs. Throughout qualifying and the finals Zak was pushed by the likes of Schumacher's Lee Price, Hot Bodies driver James Baker and Rob West but was able to keep a cool head and take his first National victory.
The next round of the championship will take place at Stafford which has been off the calendar for a number of years. Going by this past weekend we are in for a great show. And you can be certain that Chris Grainger will be wanting to be back up there in the mix to get his 2013 National Championship assault back on track.
Thanks to Stefan Chodzynski for the report.
---