May 6, 2013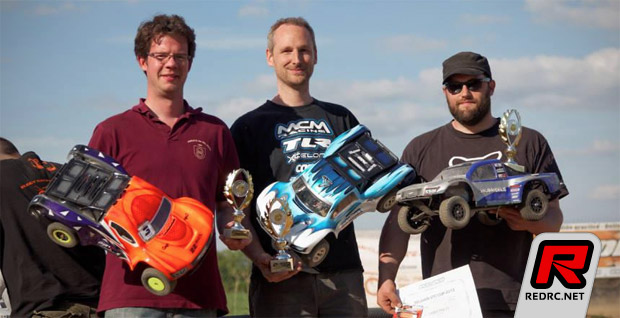 The first race of the Belgian SCT Cup 2013 has been held on BRTC track last Sunday. The layout of the track has been changed for this year and is now faster than before while still being challenging and offering very low grip. The number of entries is progressing compared to last year, with the participation of some fast buggy 1/10 racers and most importantly, young newcomers. They also had the pleasure to welcome a French driver coming all the way from Paris, Philippe Hautecoeur. The day started under the sun with pastries and coffee available on site. In 2WD qualification, tire choice proved to be pretty complex with drivers changing them each run in search of the best compromise. Martin Vierin put in the fastest run of the first run on his SC10 in front of Nicolas Evens (TLR 22SCT), Jean-François Renard (TLR 22SCT), Philippe Hautecoeur (SC10) and Julian André (SC10). Second run saw Nicolas take the advantage ahead of Jean-François, Philippe and Martin. Last run was decisive for the pole position attribution with Martin and Nicolas with a win each. Nicolas took that leg in front of Martin, Cédric Van De Ginste (SC10) and Jean-François.
2WD A-Main grid:
1. Evens Nicolas – TLR 22SCT
2. Vierin Martin – SC10
3. Renard Jean-François – TLR 22SCT
4. Hautecoeur Philippe – SC10
5. André Julian – SC10
6. Du Bois Martin – TLR 22SCT
7. Van De Ginste Cédric – SC10
8. Glineur Jean-François – SC10
9. Dupont Ronald – SC10
10.Michez Edouard-Benoît – SC10
In 4WD the early pace was set by Raphael Robert (Hong Nor) in front of Nicolas Evens (TLR SCTE), Matthieu Carpin (SC10) and Philip De Keersmaecker (Durango). Second leg was much more tight with the top 4 covered by 9 seconds, Mike Renotte (Hong Nor) winning ahead of Matthieu, Raphael and Nicolas. The final leg saw Nicolas make the best time with Mike, Thierry Mathieu (TLR SCTE) and Matthieu. With Mike and Nicolas having the same number of points with both a win and a second place, the best time gave the pole position to Nicolas.
4WD A-Main grid:
1. Evens Nicolas – TLR SCTE
2. Renotte Mike – Hong Nor
3. Robert Raphaël – Hong Nor
4. Carpin Matthieu – SC10
5. Mathieu Thierry – TLR SCTE
6. De Keersmaecker Philip – Durango
7. Catherine Jérémy – TeamC
8. Jouret Fabien – SC10
9. Ghoy Jean-Sébastien – TLR SCTE
10.Deville Philippe – TeamC
2WD B final saw a tight fight for the win between Nicolas Graffeo (SC10) and Filip De Keersmaecker (SC10) and Nicolas had the final word with 2 leg wins. In the A main, Martin and Jean-François has a close battle in leg 1, finishing in that order in front of Nicolas, Philippe and Cédric. Second and third leg were won by Nicolas which gave him to overall win.
2WD final results
1. Evens Nicolas
2. Vierin Martin
3. Renard Jean-Francois
4. Hautecoeur Philippe
5. Vandeginste Cedric
6. Du Bois Martin
7. Andre Julian
8. Michez Edouard-Benoît
9. Dupont Ronald
10.Glineur Jean-Francois
The first leg of 4WD final was won by Raphael with a margin of 4 seconds over Nicolas, followed by Mike, Thierry and Matthieu. In second leg, Nicolas won in front of Mike, Raphael, Mathieu and Philip. Before final one, Nicolas and Raphael both had a shot at winning. As Raphael won the last final in front of Mike and Nicolas, he won the race.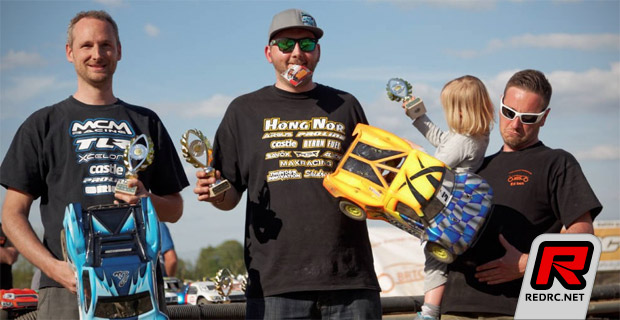 4WD final results
1. Robert Raphael
2. Evens Nicolas
3. Renotte Mike
4. Carpin Matthieu
5. Mathieu Thierry
6. De Keersmaecher Philip
7. Gohy Jean-Sebastien
8. Deville Philippe
9. Jouret Fabian
10.Catherine Jeremy
Source: Belgian SCT Cup [facebook.com]
---