May 20, 2013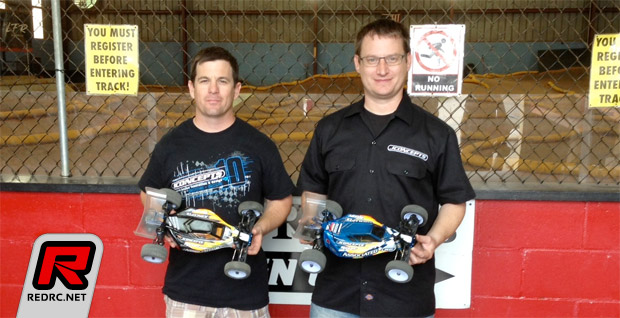 A great weekend for racing during the Chaos on the Coast point series put on by the Space Coast R/C Raceway. Jason Ruona, Paul Wynn along with a great group of JConcepts drivers were out to support the monthly event held at the Cocoa Beach, Florida facility. 2wd modified was hotly contested all day with JConcepts driver Daimon Borkowicz taking the round 1 TQ with Paul Wynn in 2nd. For round 2 the track speed picked up and Paul Wynn was able to stay consistent throughout the 5 minute qualifier resetting the TQ by a slight amount over Daimon.
The 7 minute A-main was the show of the weekend. Paul Wynn took the early lead and held off Daimon and Billy Easton in the early going. Daimon encountered a small mechanical problem which needed a quick repair and Billy Easton and Jason Ruona fit into 2nd and 3rd right away. Paul held off the challenge going several minutes error free putting the pressure on 2nd and 3rd to drive just as smooth. The battle heated up when Paul made a small bobble allowing  Easton into the lead. Ruona moved into 2nd place and after a mistake by Easton, Ruona was into the lead. Paul was close to the battle and after Ruona and Easton tied up momentarily it was officially a 3 car race.
Wynn picked up the pace and put a lot of pressure on Ruona and the 2 were running fantastic with one another out front. Easton made it very interesting putting down some hot laps and attempted a pass on Wynn on several occasions allowing Ruona some breathing room in the lead. Ruona cruised in for the victory but the battle was still on for 2nd. Paul made a last lap effort to get into 2nd but broke the car 2 turns from the finish line. Easton made a mistake before the finish line but Wynn wasn't able to limp by and regain 2nd. The finishing order, Jason Ruona 1st, Billy Easton 2nd and Paul Wynn 3rd and (TQ).
Source: JConcepts [jconcepts.net]
---