May 31, 2013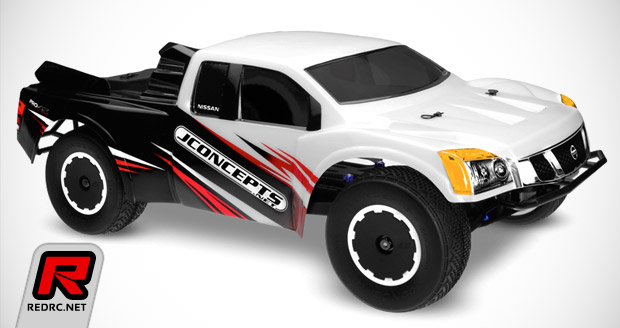 JConcepts have introduced the Nissan Titan to their lineup of championship winning Short Course bodies. The exterior of the Titan is built to cater to racer demands with aggressive, high-impact headlight and grille treatment has an unmistakable straight-on look. Included in the front hood design are reverse louvers which are built-in to allow 2 air-escape passages and the famous Nissan front fender treatment has an additional raised section which allows plenty of front tire clearance under load and also functions as an additional air escape feature. The high-performance body has a 1:1 inspired extra-cab with black-out decal to give that elusive side view. A low-profile roof line helps maintain a low center of gravity allowing the truck to transition the turns like a JConcepts heritage design while the bed of the truck is packed with all the Hi-Flow features that have become synonymous in the industry. 2 upper easy to trim Hi-Flow cut-outs chiseled between the built-in and extremely durable number plates combine with the dual channeled air-out spoiler at the base, to finish off a polished air release package.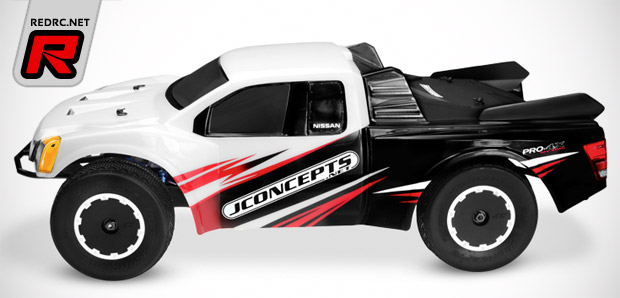 Detached, champion name plates are included with hardware to improve rear side-bite and increased straight-line stability The tail end of the body has built-in standardized name plates for a different look or additional tuning options. Add aggressive rear fender flare looks to the mix – enhanced by the included decal sheet for the Titan with rear taillights and front grille treatment – and you've got the total package.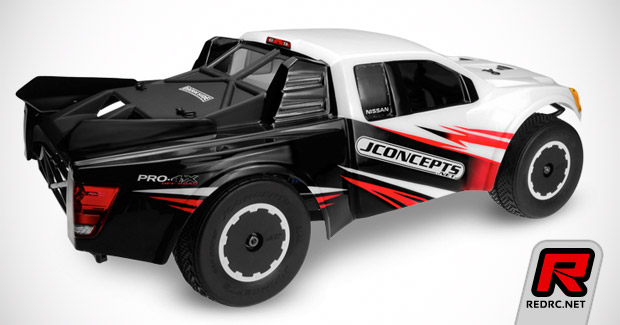 As a new SCT option, the Titan is available in standard and light-weight thickness material to suit the needs of the enthusiast and hard-core racer.     The light-weight body sheds extra weight, helps maintain a lower center of gravity and allows the truck to take on more driver input in a more nimble racing package. The light-weight body shaves off just over 20% in weight vs. the standard version.
Source: JConcepts [jconcepts.net]
---