May 6, 2013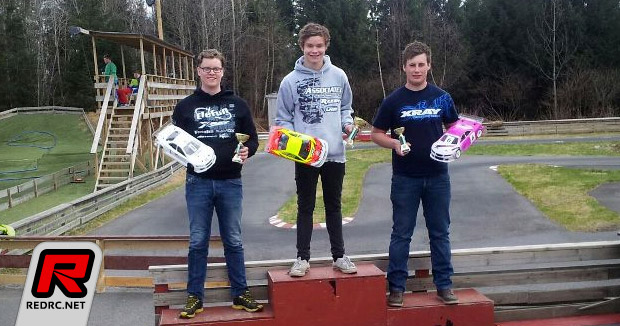 Team Associated Factory Team driver Joakim Nicolaisen has won the first round off the Norwegian outdoor series, that was held at Geiteryggen Raceway, Skien, approximately two and a half hours outside Oslo. The track was bumpy, and had low traction and the race was open to touring modified and touring stock, which was driven as a support class. The race featured three rounds of qualifying, were the best round was counted, as well as three rounds of finals. Joakim was able to win the first two qualifiers, but in the third round, a mistake allowed Øyvind Stusdal to take the win and set the new TQ time. Young talented driver, Magnus Guttormsen also made the cut, starting at the back of the grid.
Top 10 after qualifying:
1. Øyvind Stusdal – Xray
2. Joakim Nicolaisen – Associated
3. Rune Svestøl – Xray
4. Kjell Gunnar Guttormsen – Associated
5. Torbjørn Jørgensen – Serpent
6. Oskar Fjeld – Xray
7. Thomas Holmesland – Xray
8. Christer Antonsen – Xray
9. Kai Rønning – Xray
10.Magnus Guttormsen – Xray
Before the finals, Joakim made a few changes to the car, and the speedo from Vampire Racing, which made it really good allowing Joakim to win the first final in front of Torbjørn Jørgensen and Oskar Fjeld, who started fifth and sixth respectively. Joakim won the second final after some close racing between with Øyvind, and Oskar. The last final would decide who would come second and third. Øyvind won this final and claimed the runner up spot, ahead of Oskar.
Final results:
1. Joakim Nicolaisen – Associated
2. Øyvind Stusdal – Xray
3. Oskar Fjeld – Xray
4. Kjell Gunnar Guttormsen – Associated
5. Torbjørn Jørgensen – Serpent
6. Rune Svestøl – Xray
7. Thomas Holmesland – Xray
8. Christer Antonsen – Xray
9. Magnus Guttormsen – Xray
10.Kai Rønning – Xray
Source: Mustit RC [mustit.no]
---