May 14, 2013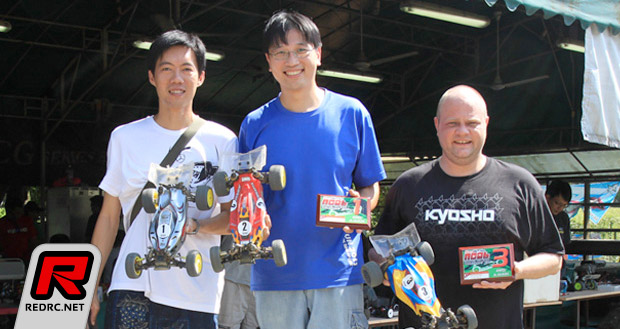 Round 3 of the NOOB Singapore Open Buggy Series took place last weekend at the RaceWorks Arena. Racers gathered to do battle with their 2WD and 4WD buggies under the blistering hot sun. In the 4WD class, it was a battle between series leaders Tein, Mark "BC" Lim and Joakim. As the qualifiers concluded, Tein drew first blood by taking the Top Qualifier spot with BC in close second and Joakim third on the grid. The 3 racers hogged all top 3 spots in the first and second leg of the finals with BC taking the win in Leg 1 and Tein in Leg 2, which meant that the final leg would determine the overall result. As the much anticipated Leg 3 kicked off, Tein popped a turnbuckle early on in the first lap effectively ending his race chances, BC capitalized on the opportunity and led the race from start to finish to take Leg 3 and emerge the overall champion with Tein in second position and Joakim finishing strong in third.
4wd A-Main Podium
1. Mark "BC" Lim (Durango)
2. Tein (Durango)
3. Joakim (Motogo / Durango)
In the 2WD class, BC set a blistering pace in qualifying by being the only buggy to complete a 14-lap run. His rear-motor configured Yokomo Bmax2MR was on rails as traction on the track improved. BC's form continued into the finals as he took convincing wins in Leg 1 and 2 despite some strong challenges from Joakim and Tein. BC beat Tein who took second spot with his Durango DEX210 and Png in third driving a Yokomo Bmax2.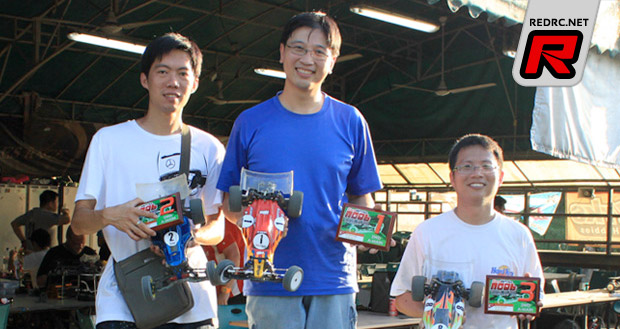 2wd A-Main Podium
1. Mark "BC" Lim (Yokomo)
2. Tein (Durango)
3. Png Eng Huat (Yokomo)
Source: Raceworks [raceworks.sg]
---