May 21, 2013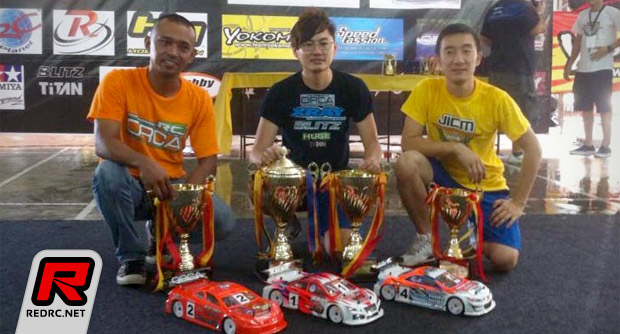 The Johor Indoor Carpet Master 2013 was held recently at Pontian, a small town in the south western Peninsula of Malaysia an this report come from P.Y. Tang. 'Organized by Mr. Ken Ng, a local resident and Xray driver, the event was very successful attracting over 80 entries with many fast drivers attending from the Peninsula Malaysia, East Malaysia and Singapore. Open Brushless 13.5T took center stage as two other classes 1:12 Pan and 1:10 FF was cancelled. The carpet track was newly prepared in a school's open-air multi-purpose hall on Thursday and the layout was very technical which was similar to the 2012 LRP TCM. No practice was allowed until Friday, with 2 control practice and 4 qualifying rounds on Saturday, followed by 1 more qualifying round and 3 finals on Sunday. As asphalt races are more common in this region, the JICM carpet race attracted many drivers and was a must-go event.
Free practice on Friday saw many drivers struggling with traction the new carpet surface. My Xray T4 started out with a basic setup that I think would work from previous carpet racing experience at the 2010 ISTC FEMCA and 2012 Tamiya World Championships. Initial laptimes was not very fast at around mid-17sec where I needed to reduce on-power steering and making the car more stable. With more fine tuning and switching bodyshells, the laptimes improved and car was easier to drive. Changing tire preparation and warming using a new tire addictive also helped a lot improving laptimes to 16.2sec at the end of day 1 which is reasonable. Closest rivals was Azri Amri setting about 16.1s pace and Shahrin at 15.8s. A lot more work had to be done for Xray drivers and the track was closed for the day at 7:30pm.
With no more practicing allowed, 3-minute Control Practice 1 started at 9am on Saturday. Traction level dropped overnight with many drivers still fighting to get more grip. I have made a few small changes to my T4 especially smoothing the powerband on my ORCA electronics to make the car more efficient. With more luck, I was able to topped CP1 posting best lap at 16.577sec, and Azri Amri at 16.957sec, while other drivers above 17sec. Understanding more on the carpet characteristics, I made more changes to the setup softening the car for better rotation. CP2 was a full 5-minute run which is a better gauge before qualifying rounds. My T4 was handling well posting 18 laps with 16.198sec lap, followed closely by Azri Amri 3sec behind with 16.261sec lap. Ong Chee Yong and Ken Ng was the only other 18 laps.
Top 10 Control Practice:
1. P.Y. Tang – Xray T4
2. Azri Amri
3. Ken Ng – Xray T4
4. Ong Chee Yong
5. Kevin Wong
6. Daryl Thong – Xray T4
7. Allister Lim
8. Norazam
9. Raphael
10. James Ki – Xray T4
Qualifying 1 started right after CP2. 3 out of 5 qualifying points to determine the mains. Most drivers were sticking with using old tires, but I felt new tires provided better grip on my ORCA-powered T4, which I used a set from Q1 to Q4, trying to save the fresh rubbers for the finals. I took Q1 with a 19 5:11.782, 1.47sec ahead of Azri Amri in 2nd 19 5:13.252, and with a surprise 3rd from Daryl Thong just 3.62sec behind also with a 19 5:15.402.
Qualifying 2 and 3 was a close fight between myself and Azri Amri with just 1.7sec separation in both Q2 and Q3, with Azri Amri topping the group, giving him a 2 to 1 advantage for overall TQ. Laptimes were shaved further by half a second per lap from improving traction with no room for mistake. Lurking behind in 3rd was Daryl Thong on Xray T4 who was on pace as well. Coming to Q4, I had to top the group to remain in contention for overall TQ, which I was able to pull it off with a 19 5:00.193 best lap down to 15.289s. Just 0.674s behind was Azri Amri at 19 5:00.867, now opening up the TQ spot until Day 3 Q5.
Tension on Day 3 with overall TQ up for grabs between myself and Azri Amri. Both driving for Team ORCA, our pace had been very close. Decided to use fresh rubber in Q5, my T4 was much easier to drive and able to pull 3.2sec ahead with 19 5:02.383, Azri Amri at 19 5:05.595 while Daryl Thong put in another consistent run at 19 5:15.185. With winning 3 qualifying rounds, I was able to start from the pole position with was important at a cleaner driving line. Daryl Thong, Ken Ng, Haikal and Colin Tong also made it into the A-Mains.
Top 10 Standings after Qualification:
1. P.Y.Tang – Xray T4
2. Azri Amri
3. Daryl Thong – Xray T4
4. Ken Ng – Xray T4
5. Ong Chee Yong
6. Esmail
7. Shahrin
8. Norazam
9. Haikal – Xray T4
10. Colin Tong – Xray T4
Final A1 started off clean. I was able to maintain the lead while multiple times Azri Amri came very close on pressure. I was able to maintain clean lines throughout and took Final A1 just 0.5sec ahead of Azri Amri who came on a late charge at the final minute mark.
A-Main Final 1
Sticking with the same setup but trying a more aggressive method on tire preparation, my T4 started off very well in the Final A2 clocking 14.912s on lap 2 which is the fastest laptime for this event. I was able to pull away easily but towards the end, Azri Amri again came charging on the final minute. I made a few small mistakes in the last few laps but was lucky to get away with it, and managed to stay in front for the win.
A-Main Final 2
Already secure the overall win, I continued to run Final A3 to test a different setting to hardene the springs which I wanted to try on Q5, which I eventually didn't to lower the risk. My T4 performed well in the first few laps which was more direct but faded off quickly when I lost some traction. I lost the lead in the first minute, but was able to maintain a close gap although my T4 was harder to drive with the harder spring. Azri Amri was able to maintain a tight lining, but in the last minute, he made a mistake at the right-hand turn after the transponder line allowing me to pass and stay on for the win in Final A3.
A-Main Final 3
Overall, it was a great event for me and learnt a lot more in carpet racing setup. In the end, 5 Xray made it to A-Main. Thanks to the organizer for the wonderful event and to Chee Lip Keong for helping throughout the event.'
Top 10 A-Main Final Standings:
1. (TQ) P.Y.Tang – Xray T4
2. Azri Amri
3. Ken Ng – Xray T4
4. Daryl Thong – Xray T4
5. Haikal – Xray T4
6. Ong Chee Yong
7. Norazam
8. Shahrin
9. Esmail
10. Colin Tong – Xray T4
Source: Xray [teamxray.com]
---