May 16, 2013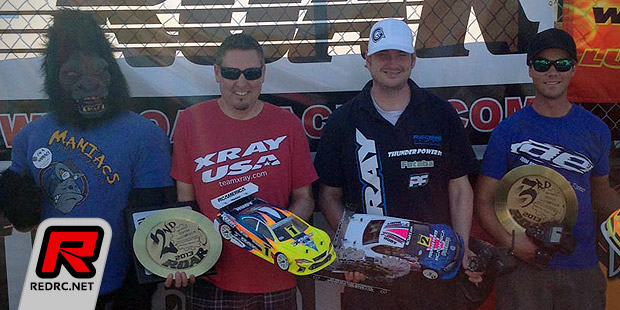 The 2013 ROAR paved on-road nationals was held in West Palm, Florida and was hosted by Tim Potter and Village raceway with help from ROAR Race management team. The format for the race was one day of practice on Thursday, two rounds of qualifying on Friday, two more rounds on Saturday and the finals on Sunday. The qualifying format was qualifying points with best two rounds out of 4 counting for final qualifying position. Everyone showed up early Thursday morning with hopes of getting in a full day of practice, soon it became apparent that was not going to be the case, most drivers were able to get in a run or two before the downpours came. With the track so was fresh in the morning and lower than expected grip all teams were scratching their heads not knowing whether to change their cars or not. Due to all the rain on Thursday ROAR allowed for some extra practice on Friday which was nice. In the Mod TC class it was Andrew Hardman, Ralph Burch, Paul Lemieux along with Keven Hebert who looked to be the fastest in the limited bit of practice. In the 17.5 TC division it was Scotty Gray leading the way, Scotty is most known for his talents in nitro racing but with the Nationals close to home he came out and was impressively fast in the 17.5 division. In the 13.5TC division Kory Parsons , Josh Cyrul and Andrew Knapp were all looking fast.

As qualifying was coming to an end there were many TQ's up for Grabs. The Mod TC class was full of drivers having rough qualifiers, Burch, Lemieux, Hebert and Hardman all had their fair share of bad luck but in the end it was Ralph Burch who pulled it out in the last round to take the TQ spot ahead of Lemieux and Hebert. In the 13.5 TC class it was Cyrul who after some battles with Parsons and Knapp was able to TQ. In the 17.5 TC class it was Scotty Gray who posted his T4 on TQ in the final round. In The VTA division it was Cory Parsons who was the front runner all weekend and secured his TQ. The 17.5 12th scale division was Mark Smyka from the start, the same in the mod 12th scale class but it was Josh Cyrul in this division. In the World GT division the TQ went to Joe Conty with Jeff Maturo and Seth Moore rounding out the top three in qualifying. Another class offered was the JConcepts sponsored Scalpel class. The base vehicle is a Traxxas 4×4 slash that is converted by JConcepts with a low profile truck body, on-road style tires among other upgrades. The racing looked like a lot of fun and the vehicles functioned at a good level which made it appealing to watch as well, Paul Wynn ended up TQ in this class.
In the first modified TC final Burch and Lemieux got out to the lead with Hebert a short distance behind. Closely following Burch Lemieux made a mistake which would tweak his bumper to the point of where he had to pulled it off. This gave Burch a fair size lead over Hebert, bad luck was around the corner for Burch as he got collected in the board with some back markers and a body tuck coming out of it would end his chance of A1 along with Lemieux. Hebert would then keep it steady to take the win in A1. A2 began as a replay of A1, Lemieux in pursuit of Burch around the track. About 2 minutes in Lemieux got loose and gave up the two spot to Hebert. Hebert would then make a small mistake which let Lemieux back in to the race. From their Burch with a small mistake of his own would let Lemieux threw for the win, Burch in second and Hebert in third. A3 was to follow suit with the first two finals in the sense that the top racers stayed fairly clean with nothing but a couple small bumps. Two minutes in Burch got a bit squirrely which allowed Lemieux to get by. From their it stayed like that with Lemieux taking A3 and the title. It was then a tie breaker between Hebert and Burch for second with Burch winning out by .2 of a second to take the second spot.
Mod TC Top 10
1. Lemieux, Paul
2. Burch, Ralph
3. Hebert, Keven
4. Hardman, Andrew
5. Hohwart, Rick
6. Law, Felix
7. Tabush, Cristian
8. Cyrul, Josh
9. Vera, Dave
10. Adams, Chris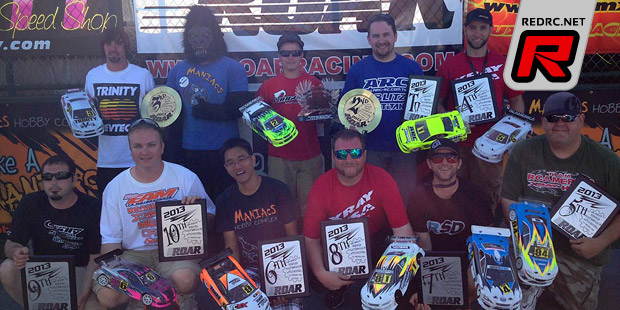 The 13.5TC finals were great to watch because going in to A3 their were 3 drivers who had a great chance to win. In the end it was a three way tie between Cory Parsons, Josh Cyrul and Andrew Knapp, each of these three drivers recorded a 1,2,3 over the finals which is so rarely seen. After the tie breaker was added up in laps and times it was Corey Parsons who claimed his national title ahead of Josh Cyrul in second and Andrew Knapp in third.
13.5 TC Top 10
1. Parsons, Cory
2. Cyrul, Josh
3. Knapp, Andrew
4. Adams, Chris
5. Bowser, David
6. Law, Felix
7. Tabush, Cristian
8. Ellis, Andrew
9. Darroch, Ray
10. Anderson, Eric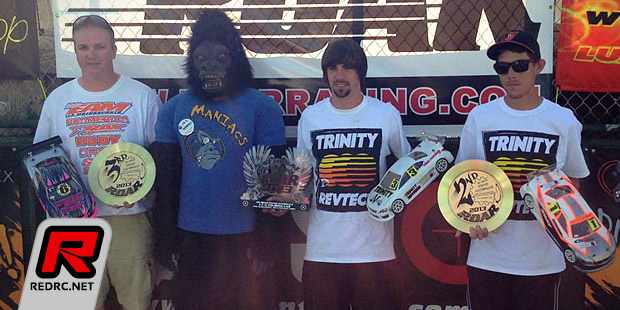 The 17.5TC finals were also great with the competition high between Scotty Grey and Andrew Knapp. A1 went to Knapp by just over a second, A2 went to Grey by a bit more comfortable of a margin. A3 was a good drive by Knapp which allowed him to secure the top spot on the podium. Scotty Grey would have to settle for second overall even though it was a great showing from his nitro roots, rounding out the podium was Eric Anderson who never stopped fighting and earned his way up there.
17.5 TC Top 10
1. Knapp, Andrew
2. Gray, Scotty
3. Anderson, Eric
4. Cooper, Robert
5. Parsons, Cory
6. Bowser, David
7. Jenkins, Danny
8. Spence, Billy
9. Eden, Kyle
10. Michael, Robbi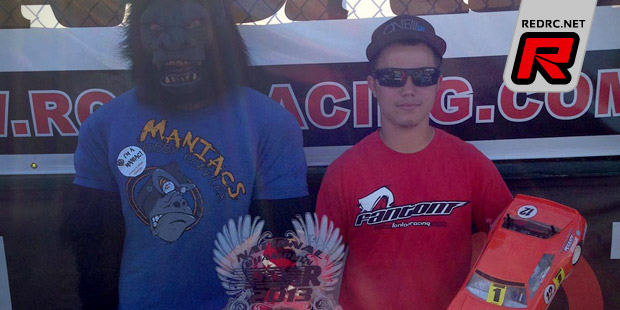 The Vintage TransAm class seemed to be an easy game for Cory Parsons from the beginning, after a 2 second victory in A1 over third qualifier Tim Kowal, Corey was able to win A2 by a larger margin to make it two national titles on the weekend. In the end it was Tim Kowal who would finish second with second qualifier Dave Franklin finishing third overall.
Vintage TransAm Top 10
1. Parsons, Cory
2. Kowal, Tim
3. Franklin, Dave
4. Parsons, Jarrett
5. Pendergraph, Steven
6. Potter, Tim4
7. Gillespie, Eric
8. Flassig, Jeff
9. Dzama, Billy
10. Remus, Chris
In 12th scale 17.5T Mark Smyka would put his stamp on this class by taking A1 and A2 in pretty convincing fashion. Billy Spence and KO's own Robert Morris would battle it out for the two spot. In the end it was Smyka, Spence and Morris as the top three.
17.5 12th scale
1. Smyka, Mark
2. Spence, Billy – XRAY X12
3. Morris, Robert
4. Maturo, Jeff
5. Brant, Dustin
6. Conte, Joe
Source: Xray [teamxray.com]
---