May 31, 2013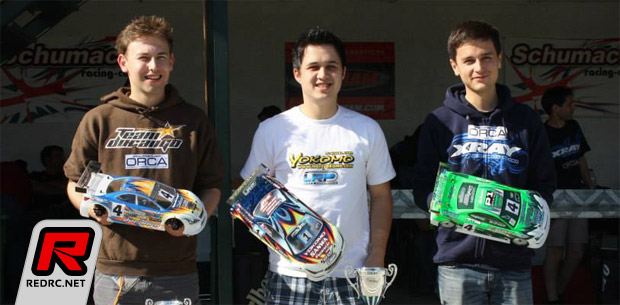 Last weekend the Euros Warm-Up Race for EP touring cars took place at the Mini-Autodromo Track in Torres Novas, Portugal. Some of the best European drivers attended the race since the weather prediction for the weekend was really good and it was confirmed by some very high temperatures. Ronald Volker was the man to beat since he TQ'ed 4 out of 5 qualification heats and was just beaten in one round by the Awesomatix driver Viljami Kutvonen. In the finals the Ronald show continued and he won all 3 A-mains with Elliot Harper taking the runner up spot and Alexander Hagberg in 3rd.
A-main Final Result:
1. Ronald Volker (DE)
2. Elliott Harper (GB)
3. Alexander Hagberg (SE)
4. Viljami Kutvonen (FI)
5. Martin Hudy (SK)
6. Alessio Menicucci (IT)
7. David Ehrbar (DE)
8. Tim Wahl (DE)
9. Bruno Coelho (PT)
10.Helder Silva (PT)
View more images from the event here.
Thanks to Jorge Simões for the report.
---