May 13, 2013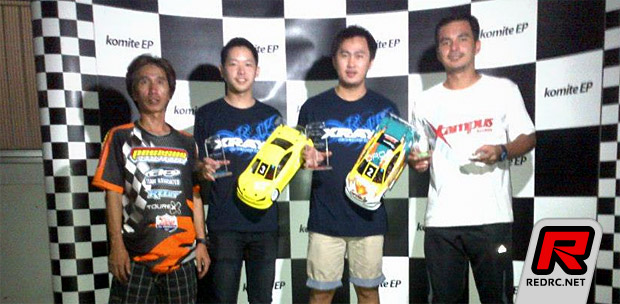 Round 2 of the Jakarta Regional 1/10 EP Championship was held at the Sunter International Speedway Circuit with total of 40 drivers joining the race. The race was ran in the counter clockwise layout and in good sunny weather. In the primary superstock class, current standing leader Bowie Ginting was ill and couldn't attend the race. In qualifying Teddy Syach took the TQ spot with his Tamiya followed by Heri Susanto and Ronny Suwarto in 2nd and 3rd respectively with their Xrays. Chandra Yosef took the TQ spot in the Stock 13.5 boosted class. The interesting story in the Superstock class was in the main final which saw three different winners in each leg. The main final was won by Heri, Teddy and Ronny. So, there was the same points for all three drivers. With the two best round to count Heri won the race followed by Ronny and Teddy. In Stock Rama Tribudiman successfully took the win from pole man, Chandra Yosef followed by Robert Hendrawan.
Superstock class result:
1. Heri Susanto (Xray)
2. Ronny Suwarto (Xray)
3. Teddy Syach (Tamiya)
4. Suwardi Suliandy (Xray)
5. Denny Pangestu (Associated)
6. Rama Tribudiman (Tamiya)
7. Peter Anthony (Yokomo)
8. Franky Aliang (Serpent)
9. Andy Sanjaya (Associated)
10.Ricky Kurniawan (Xray)
Stock class result:
1. Rama Tribudiman (Tamiya)
2. Chandra Yosef (TOP)
3. Robert Hendrawan (Associated)
4. Handoko Wicaksono (Hot Bodies)
5. Ronald Kasengkang (Tamiya)
6. Andrew Tjahjono (Spec R)
7. Anton Santoso (Associated)
8. Deni Rusli (Yokomo)
9. Anto Perwata (Xray)
10.Ivan Hartono Sutanto (Associated)
Thanks to Bowie Ginting for the report.
---