May 20, 2013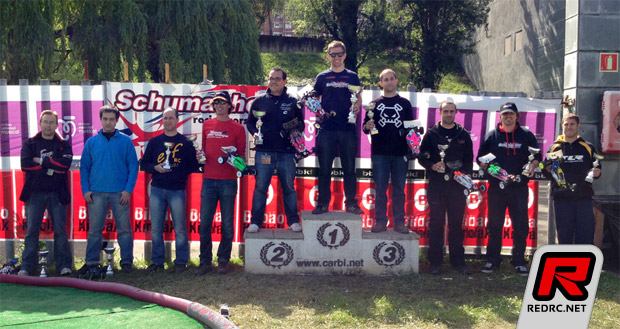 Last weekend Schumacher drivers Tom Cockerill and Trish Neal were invited out to Spain to compete in the second round of their national series at Bilbao, the track that hosted the 2009 European Championships. The track had undergone some changes since that event, with the most noticeable being that it is now run in the reverse direction. The weekend consisted of free and controlled practice on Saturday followed by qualifying and finals on Sunday. During practice the team tried many different setup options, and these clearly worked with Tom and Trish posting the two quickest '3 lap' times.
Qualifying was difficult due to the changing weather conditions, the track drying and a tough choice of when to change from Schumacher Silver mini-spikes to Yellows. Tom Cockerill would shine to take a dominant TQ in every round, securing himself first on the grid. Trish had some troubles and would line up 7th, hoping to improve on this in the 7 minute finals.
The first final was a disaster for Tom, getting caught at the first corner and never recovering. However, Trish would take advantage and drove to an excellent 2nd place. Leg two saw rain come down and a rush for everyone to change back to wet setups. Tom would make the most of the tricky conditions to take a tone to tone victory, setting up an exciting third leg. Trish again moved up the grid to take 6th place.
The third and final leg was back in dry conditions, and would prove to be an exciting race. Some very clean and close racing would see the lead change several times, but when the tone sounded Tom came round first to take the win, and with it the meeting. Trish backed up his strong first leg to take 5th overall.
Source: Schumacher [racing-cars.com]
---