June 17, 2013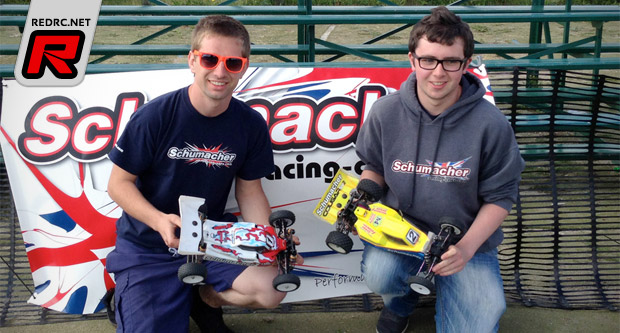 The weekend before last was Round 2 of the oOple Series, held at RobinHood Raceway. The weather was looking good and it was clear the track crew had put in a lot of effort, with the track looking very good. The Schumacher Team were once again in attendance to offer support and help to their customer's trackside. The racing was very close all weekend, with the format seeing 4 rounds of qualifying on Saturday, then a final round Sunday morning before heading into finals. It was James Heliwell and Tom Cockerill who came out on top in qualifying in 2wd and 4wd respectively. James was closely followed by Greg Williams in 2wd, and James wasn't far behind in 4wd, setting up some exciting finals.
2wd saw some great racing, with very little between the top two. A mistake from James saw Greg come through to take leg 1, and an epic battle in leg 2 saw them cross the line so closely no one was sure who had taken the win. The computer was in Greg's favour, giving him the leg, and overall win by just 0.01s! Greg was backed up in the A final by Tom Cockerill & Steve Pierce both driving the SV2.
4wd was much of the same, with the battle now between Tom and James. James came out the gate fighting in leg 1, managing to take the win, but Tom came back to take the second leg, setting up a deciding 3rd leg. The pair of them raced very closely for the first 2 minutes of the race, until a small mistake from James gave Tom the gap he needed to pull away and take the win, his second meeting victory in the series.
It was another great meeting put on by the oOple crew. The series next rolls into Southport 6/7 July, and again the Schumacher team will be in attendance.
Source: Schumacher [racing-cars.com]
---