June 26, 2013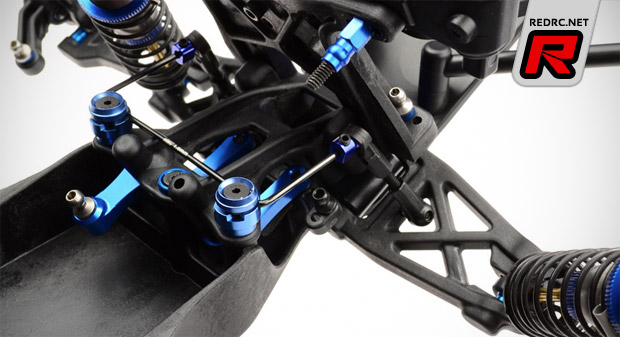 The JConcepts anti-roll-bar kit for Team Associated SC10, T4 or B4 vehicles is the result of continuous driving on indoor, technical driving circuits which require the correct vehicle balance. JConcepts, together with test drivers Brian Kinwald and Paul Wynn, sought out the proper pivot placement on the front and rear a-arms which provided the best performance point, which became the basis for the new design. The inner mounted locations place more emphasis on wire diameter and less mechanical advantage which allows the driver a more finely tuned piece.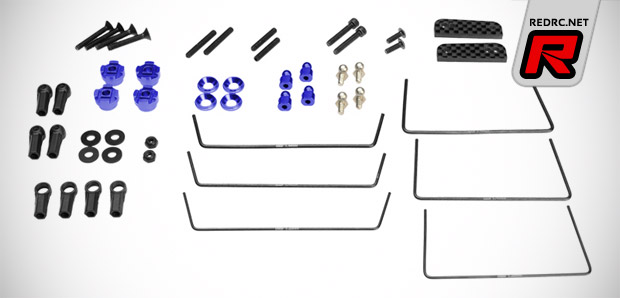 The front inner placement position (SC10 and T4) is located by a carbon fiber bracket which neatly attaches to the front arm and shock assembly with included hardware. A mask template is provided to locate, mark and drill the rear inner placement position giving the advantageous position. From there, racers can choose from the 3 different roll-bar wire diameters for the front and rear in 1.2, 1.4 or 1.6mm diameters. Suspension arm to roll-bar connections are supplied by exclusive JConcepts molded open and closed ball-cups for proper length, positioning and ease of use.
The roll-bars are secured to the vehicle with a rotating "quad" bar mount which provides the hold for the pivoting action. Quad mounts can be rotated for different wire diameters which makes adjustments and changes extremely quick and simple. Drop-on the aluminum washers for the flat head screw installation and install the aluminum wire pivots and the anti-roll bar kit looks like a piece of fine craftsmanship ready for high-end racing.
The JConcepts anti-roll bar kit can also be used on the SC10.2 and T4.2 generation gull-wing front suspension by using included components assembled in a different configuration.
Features:
– Carbon Fiber L&R front location brackets
– 3 different wire diameters front and rear.  Black oxide coated, laser etched
– Quad roll-bar mounts, aluminum and blue anodized
– Aluminium countersunk washers for security
– Aluminium, blue anodized anti-roll bar wire pivots
– JConcepts exclusive molded ball-cups and open eyelets for pivoting connection
– Installation and starting setup sheet
[youtube]http://www.youtube.com/watch?v=Q-lXDnE_IEM[/youtube]
[youtube]http://www.youtube.com/watch?v=jB-KAf4002U[/youtube]
Source: JConcepts [jconcepts.net]
---