June 18, 2013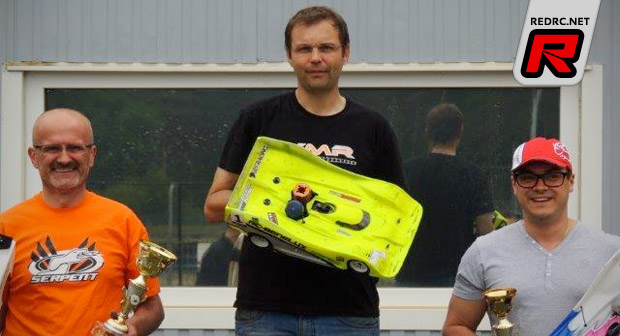 Last weekend the third Belgian national took place at the new MRG track in Genk and with a sunny forecast the race was well attended. The track lay-out is fast and with the 5 minute qualification system, fuel management was crucial for a good result. After 3 rounds of qualification the 4 direct finalist where John Lenaers (Mugen) on pole followed by Daan Haling (Motonica). 3rd place went to Yarmishyan Alexy (Capricorn) and 4th place to Dewynants Cédric (Capricorn). With only a few seconds between the 4 drivers, it would promise to be a very interesting race. After the Lunch break, two semi finals where driven. Victory in Semi final B was for Poesen Bert, who drove a steady final and was very closely followed by Vandonck Erwin. Only a gap of half a second was between these drivers after a 15 minute race. Third place went to Van Calster Danny. Semi final A was won by Dutchmen Frank Baggen, who cruised to an easy victory, followed by Pollet Michel and Machon Gert.
At the start of the final, Pole-man John Lenaers took the lead, followed closely by young Daan Haling and Yarmishyan Alexy. Lap by lap John increased the gap between him and Daan by a few tenths of a second. At the 15 minute marker, the gap was almost one Lap. Frank Baggen was coming on strong as he is known to be a very steady driver, taking the 4rd place from Cédric and on his way to Alexy for the 3rd place. At the 20 minute marker, Daan Haaling sufford engine problems and dropped back into the field to 5th place. In the final minutes of the race, Frank Baggen overtook Alexy for the second place as he hit some problems with overtaking. In the Meantime, Pole-man John Lenaers cruised to the victory, leading by 4 laps.
Final results:
1. John Lenaers (Mugen) – 108 Laps
2. Frank Baggen (Serpent) – 104 Laps
3. Alexy Yarmishyan (Capricorn) – 103 Laps
4. Cédric Dewynants (Capricorn) – 102 Laps
5. Daan Haling (Motonica) – 99 Laps
6. Van Calster Danny (Mugen) – 95 Laps
7. Vandonck Erwin (Mugen) – 92 Laps
8. Machon Gert (Serpent) – 85 Laps
9. Poesen Bert (Mugen) – 66 Laps
10.Pollet Michel (Mugen) – 50 Laps
Thanks to John Lenaers for the report.
---