June 13, 2013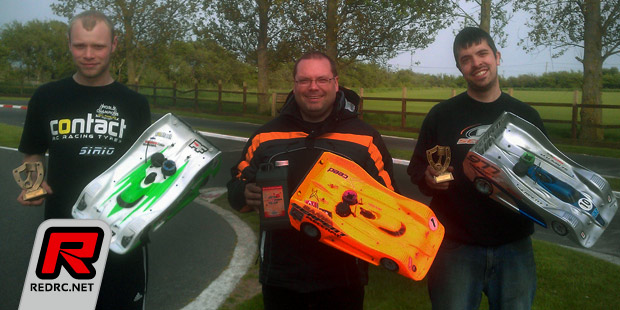 Round 3 of the 2013 BRCA 1/8th championship was hosted by the Brooklands club. This was the first time the section had visited the circuit for 18 months after circuit ownership issues which have now been fully resolved. The track is a power circuit and very flowing which makes it a favourite amongst the drivers and resembles many circuits with Europe. For this meeting the committee decided to run the bus stop chicane along the back straight to firstly slow the cars down over the bumps preventing potential engine failures and secondly to create a longer lap and more of a drivers challenge. The track was open for free practice on Saturday and the usual suspects of Branson and Green were quickly up to speed with the track changes and soon a driving line was forming and the grip was steadily increasing. With the straight being shorter the drivers experimented with gear ratio's but the norm used on other tracks seemed to be the answer to aid with driveability. Another attribute to the bus stop chicane layout was the benefit of fuel consumption and with the new regulations of 16 percent nitro should surely make 5 minute run times easy to achieve with the dreaded fuel stop a thing of the past. The conclusion however was not as anticipated and many of the top drivers had to make a fuel stop to be safe.

Branson however had found a magic formula and was lapping considerably quicker than Green and having run time of over 5 minutes made him the clear pre race favourite. Where he made most of his time was by having confidence in the car through the dog leg section of the track and he was actually in second gear which carried good corner speed.
On Sunday, the conditions were dry which was another surprise since we normally have at least one wet race per season. In heat 4, the pace increased a level with Neal King, John Carr, Alex Thurston and Ross Simons all recorded 18 laps. In Heat 5, the main talking point happened in the warm up, when Branson hit the inner kerb of the dog leg section which launched the car into the concrete barrier upstand which totally bent the rear of the car which would require a major rebuild. The heat continued with Green taking the win on 19 laps with Daniel Bancroft second on 18 laps, Andy Hastings third on 18 laps and Tim Wood on 17 laps after running out of fuel. Andy North suffered a engine cut at the end of the main straight caused by a main bearing failure.
Into Round 2, heat 4 the pace again increased with London based Italian Giogio Acanfora winning the heat ahead of King with 18 Laps 306 seconds without making a fuel stop which would prove to be a big advantage. Heat 5 was again won by Mark green with North recording a fast 18 lap time but ran out of fuel before completing his 19th lap which guaranteed a final position at the head of the grid. The Hasting duo both recorded 18 laps which put them in the mix. After Branson's earlier crash and major car damage he decided to retire from the meeting.
Round 3, heat 4 and a problem while overtaking a car at the start put John Carr out with a broken front wishbone. The winner of the heat was Thurston with a personal best time to move up the overall results list. In heat 5, Green yet again recorded a 19 lap result with North again just failing to complete his 19th lap due to running out of fuel. Tim Wood finished a round and record a mid 18 lapper to put him in the mix.
In round 4 the pace the slower but improvements for Thurston guaranteed a main final position. Heat 5 and Green again produced a 19 lapper which was slightly slower than his previous best but Wood improved to a quick 18 lapper along with Pete Hastings. The top ten was as follows:
1. Mark Green – Serpent/Novarossi/Sanwa/Exceed/Mecca
2. Andy North – Mugen/Sirio/Contact
3. Tim Wood – Serpent/Exceed
4. Pete Hastings – Shepherd/Sonic
5. Daniel Bancroft – Motonica/Vox
6. Giorgio Acanfora – Mugen/Max
7. Neal King – Mugen/Sirio/Contact
8. Andrew Hastings – Shepherd/Sonic
9. Alex Thurston – Serpent/IDM/Contact
10.John Carr – Serpent/Mega/Exceed
The A final started in grid order, but the first casualty was Wood who tried to pass North for second but spun and had to start form the back. Green and North were settling into a good pace with King keeping both drivers on it until he was first to pit on 4 minutes. Green by this stage had a comfortable lead over North who was pacing himself to prevent any potential tire problems later in the race. After the first fuel stops, North was given a stop and go for a bad re-fuel but would still be favourite for at least a podium when the engine went lean caused by a cut fuel pipe. This was driver error due to using more fuel tubing around the carb to get more fuel capacity in the tank and this problem put North out. King then ran second behind Wood who was back in contention for second when a mechanical failure put him out. Thurston then ran a strong third close behind King when his engine blew a plug with 30 seconds to the flag. This prevented a certain third place and gave that to Carr who is having a brilliant season so far.  The final results were as follows:
1. Mark Green – Serpent/Novarossi/Sanwa/Exceed/Mecca – 107 Laps
2. Neal King – Mugen/Sirio/Contact – 101 Laps
3. John Carr – Serpent/Mega/Exceed – 100 Laps
4. Daniel Bancroft – Motonica/Vox – 96 Laps
5. Alex Thurston – Serpent/IDM/Contact – 95 Laps
6. Tim Wood – Serpent/Exceed – 71 Laps
7. Giorgio Acanfora – Mugen/Max – 65 laps
8. Pete Hastings – Shepherd/Sonic – 58 Laps
9. Andy North – Mugen/Sirio/Contact – 25 Laps
10.Andrew Hastings – Shepherd/Sonic – 7 laps
The next round is at the end of June 2013 at the Cotswolds Circuit.
Thanks to Andy North for sending the report.
---