June 2, 2013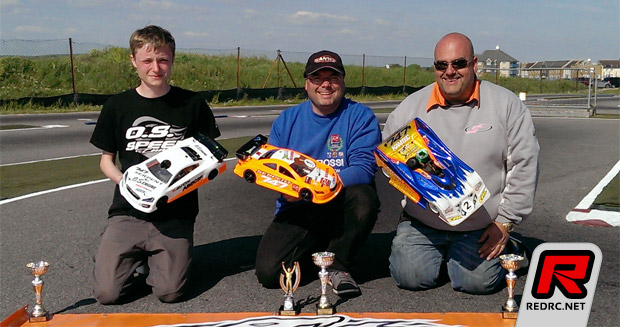 Round 4 of the British 200mm Championship was held at the very tight and technical Adur circuit on the south coast last weekend. The weather was very good with temperatures 20+ degrees over the whole weekend. As Saturday's practice started the drivers soon discovered that the track was very dusty and had extremely low grip. With many cars circulating the traction did improve, but still remained low for the rest of the weekend. It was Mark Green at the front yet again this season getting down to 15.0 laptimes. Team mates Joe Kerry and Alex Thurston were close behind, with all three drivers being much quicker than the rest. In qualifying it was Mark who took TQ ahead of Joe, with Alex getting 3rd place being the only drivers to achieve 20 laps.
In the final Mark and Joe were on the same lap for the whole race but after 30 minutes of hard racing it was Mark who took the win around 1/2 a lap in front, with John Zottl coming through to take 3rd.
In the 220mm GT class it was current series leader Glyn Beal who took the win with his Xceed powered 747-GT. Glyn finished 2 laps clear of 2nd place to make it 4 wins from 4 this season and he now has a 12 point lead in the National Championship.
Round 5 of the Championship will take place at the fantastic Cotswolds track on June 22nd / 23rd.
Source: Serpent [serpent.com]
---