June 17, 2013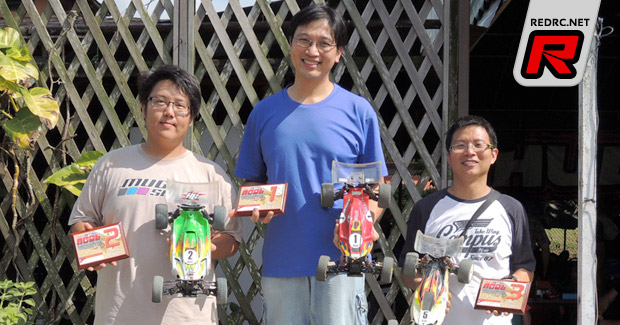 Racers gathered at the RaceWorks Offroad Arena last weekend to compete in Round 4 of the NOOB Singapore Open Buggy Series. As a result of the recent hot and dry spell, the 2WD and 4WD buggies found themselves contending with a very hard and dry track. In the 4WD class, Mark "BC" Lim had a convincing win after taking TQ honors and winning the first two finals. With BC sitting out the third final it was a battle between Youyi and Png who were both tied on points after 2 legs. The final battle for second place concluded with Youyi winning the final leg to claim second spot and Png having to settle for third.
4WD A-Main Podium
1. Mark "BC" Lim (Durango)
2. Youyi (Hot Bodies)
3. Png Eng Huat (Durango)
In the 2WD class, BC was looking to complete the double and close out the series with a fourth win in this best 4-of-6 series. He looked well on track to do so during qualifying being the only driver to clock 11-laps in each of his 3 qualifiers. In the finals however, Joakim was determined to deny BC the win. In Leg 1, BC started off strong and built a commanding lead, looking poised to take the win until the closing laps where a series of incidents with back-markers erased that lead and allowed a charging Joakim to pass and cross the finish line first with BC in second place and Adi in third. BC then took Leg 2 with a clean run with Adi in second and Joakim in third – which meant that all the podium positions would be determined by Leg 3. As Leg 3 kicked off, BC tried to consolidate his position and pulled away from the grid early on. Halfway through the run however, a bad incident with a back marker left him sidelined with no marshal nearby and allowed Joakim and Stephano to pass him. Up by almost half a lap, Joakim drove hard to hold his lead which was slowly eroded to a single corner as the clock ran down to its final seconds. The race was his for the winning but Joakim clipped a corner on his final lap which gave BC the break he was looking for to take the win in Leg 3 and emerge as overall champion for the round and also the series in the 2WD class. Joakim finished second with Adi in third.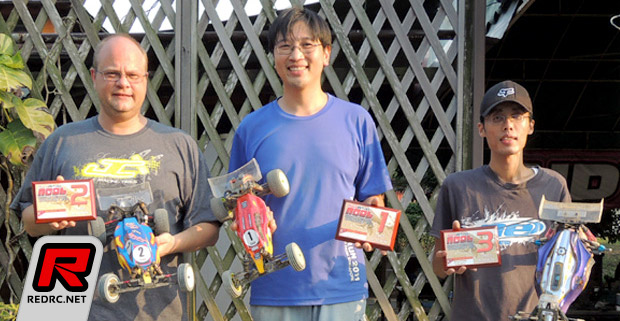 2WD A-Main Podium
1. Mark "BC" Lim (TLR)
2. Joakim (Kyosho)
3. Adi (X-Factory)
Source: Raceworks [raceworks.sg]
---