June 25, 2013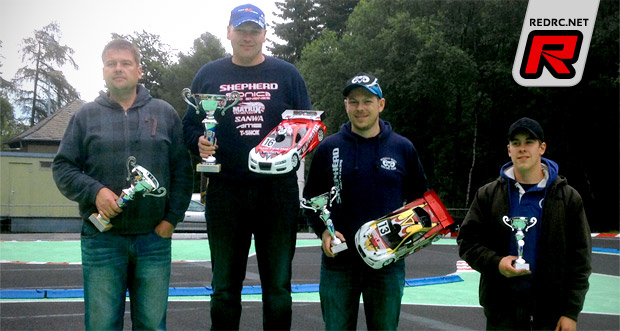 This past weekend saw the 3rd round of the Pro Stock Series taking place at the Kastellaun Race Track. The unique feature of this racing series are the standard Sonic/Xceed engines that are mandatory and must not be modified in any way. 25 drivers in 2 classes went out for some nice racing. The weather forecast for both days was okay although the Saturday was supposed to be the better day. With former Austrian 1/12th national champion Martin Wilfinger (Shepherd) and former Tamiya World Champion Patrick Gassauer (Serpent) the drivers list showed interesting names. Also the overall winner of 2011 Marcus May and last years runner-up Sascha Vorgrümler (both Shepherd) took the challenge.
In the 1/10th class the open practice was an affair between Martin and Marcus who where the only pilots to drive lap times under 17sec with Martin beating Marcus only by 1/100th of a second. Serpent's Christian Heid was the fast drivers in 1/8 followed Shepherd's Markus Friedrich. On Sunday morning the drivers were welcomed by a wet track so the race organizer decided to wait for dry conditions. At 11:00 the first round of qualifying started. After three rounds it was Martin Wilfing taking the TQ in 1/10 while Patrick Gassauer claimed the TQ in the 1/8th scale class.
As the finals started everyone was aware that the tyre wear would decide this race in the 1/10th Class as the track conditions wear very bumpy and rough. At the start Martin had some tough luck as his engine stalled and he had to enter the race from the pits already 2 laps down on the rest of the field. At the front Sascha Vorgrümler and Marcus May were battling for the lead. At the 15 min marks it started to rain slightly and some drivers decided to change the tyres. Marcus and Martin just drove on and made the best out of it, as the sun started to come out very soon after the rain had started to drop on the track.
After 30 min Marcus crossed the finishing line in first position 2 laps in front of second placed driver Uwe Velten. As Martin had another incident during his campaign to get back to the front, where his rear tyre was damaged, he could only hold on to the 3rd spot.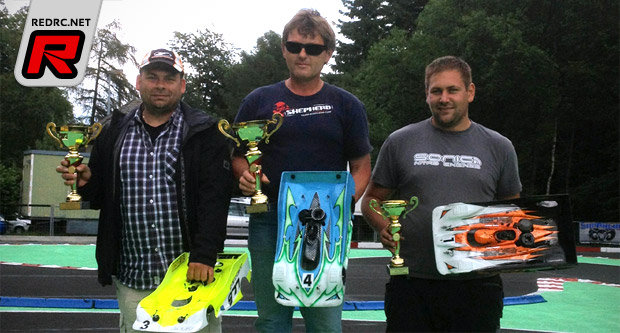 In the 1/8th scale class Patrick had some trouble with his engine and flamed out several. Therefore the way was free for Markus Friedrich in front of the Serpent pairing of Christian Heid and Patrick Gassauer.
Source: Shepherd [team-shepherd.com]
---