June 17, 2013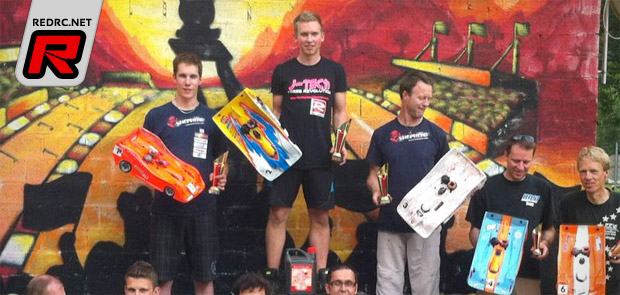 Last weekend round 3 of the Swiss championship headed to the wonderful Lostallo track in the south of Switzerland. The weather forecast was perfect with about 30 degrees on the whole weekend and because of this most of the 80 competitors already arrived on Thursday to avail of the perfect conditions. Once again the track was driven in the opposite direction from the Worlds in 2009. Qualification was run under extremely hot conditions and so the last round when it was colder would be crucial for deciding the TQ. Simon Kurzbuch had a really perfect round and had an gap from more than 4 seconds.
1. Kurzbuch Simon – 15L 5:13.139
2. Hächler Silvio – 15L 5:17.341
3. Nydegger Jürg – 14L 5:01.587
4. Martinelli Luca – 14L 5:02.268
5. Pasquin Claudio – 14L 5:03.444
On Sunday every driver had to go through the semi-finals which were really hard with failures from Mattia Pesenti and Luca Martinelli to name two of the fastest drivers. Simon drove to the Pole-Position in front of Silvio and Jürg. After the start Silvio made huge pressure to Simon and took the lead with a spectacular overtake just in front of the very long straight. After that it was a close race with a gap from 2 till 7 second for Silvio against Simon who had another gap to Jürg. During the tyre change Silvio lost some seconds which gave Simon the possibility to come directly behind Silvio back on the track, unfortunately however the second gear in his Shepherd had an error after 30 minutes of racing which he changed during a fast pit-stop. At the end the advantage for Silvio was about two laps and took home the win. After the third win in the third race Silvio is the clear leader of the championship.
Here the top 10 after the Final.
1. Hächler Silvio – 124L 45:00.732 – Mugen, Novarossi, J-Tech
2. Kurzbuch Simon – 123L 45:11.308 – Shepherd, Max, Contact
3. Nydegger Jürg – 123L 45:14.160 – Shepherd, Max, UFRA
4. Henzi Thomas – 121L 45:13.386 – Mugen, Novarossi, UFRA
5. Lechner Sabrina – 120L 44:21.799 – Serpent, Novarossi, Hot Tyres
6. Aegerter Andreas – 114L 45:05.247 – Mugen, Novarossi, UFRA
7. Sehirtoy Erol – 110L 42:28.876 – Mugen, Novarssi, J-Tech
8. Kurzbuch Pascal – 106L 45:07.690 – Shepherd, Novarossi, Contact
9. Hasler Remy – 102L 38:20.297 – Mugen, Novarossi, UFRA
10.Albanese Roland – 91L 41:01.714 – Mugen, Novarossi, J-Tech
In the Amateur category most of the favorites struggled so it was Martin Wirz who was able to take a perfect win.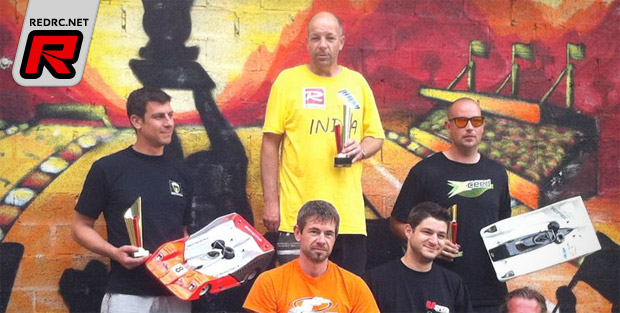 1. Wirz Martin – 78 30:15.109 – Mugen, Novarossi, J-Tech
2. Pittet Benoit – 77 30:11.150 – Motonica, Vox
3. Eberdorfer Oliver – 76 30:08.389 – Serpent, Picco
4. Rizzo Marco – 76 30:09.864 – Xray, Picco
5. Geisser Andy – 74 30:14.281 – Shepherd, Novarossi, J-Tech
6. Scherer Rudi – 70 30:05.618 – Serpent, Novarossi
7. Seiler Christian – 50 19:09.899 – Capricorn, OS
8. Asendorf Noah – 50 19:19.060 – Motonica, Novarossi
9. Suter Rolf – 42 17:02.903 – Capricorn, OS
10.Köhl Stefan – 0 3:44.379 – Mugen, Novarossi, J-Tech
Thanks to Silvio Hächler for the report
---