June 3, 2013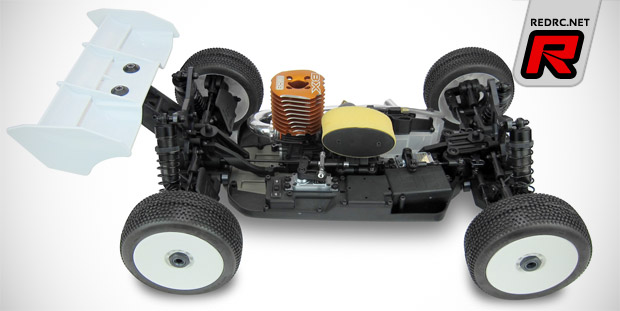 Tekno RC have introduced the NB48, a completely new 1/8th nitro buggy built on their EB48 and SCT410 platform. The chassis has ideal weight distribution side-to-side due to creating an all new mid-offset rear bulkhead and ring gear which moves the engine closer to the centre without overloading the right side. It also minimizes drive angles and wear on the center dog bones so the drivetrain is as free as can be without sacrificing chassis layout and weight balance on the very narrow 4mm 7075 CNC hard anodized aluminum chassis. The engine can be mounted in two positions, a front position and an 18mm offset rear position. Under most conditions the motor forward produces the fastest cornering and subsequent lap times while in very bumpy or very loose conditions testing shows the rear engine position can be easier to drive.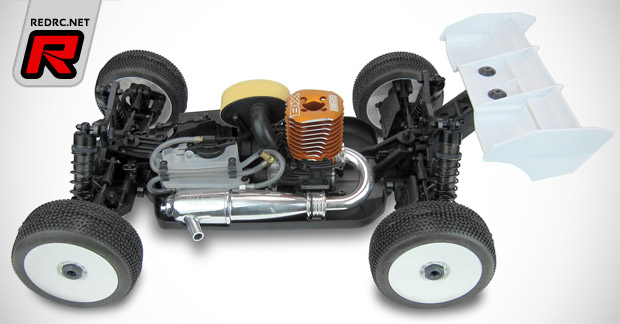 Following a design cue from the EB48, they created the radio tray and the right mudguard as one piece. This allowed the RX battery to essentially sit on the chassis producing the lowest CG possible. The RX sits right behind the battery and the throttle servo is mounted behind the RX meaning wiring is clean and easy with almost no exposed wires.  Finishing off the radio tray are integrated transponder, switch, and antenna mounts.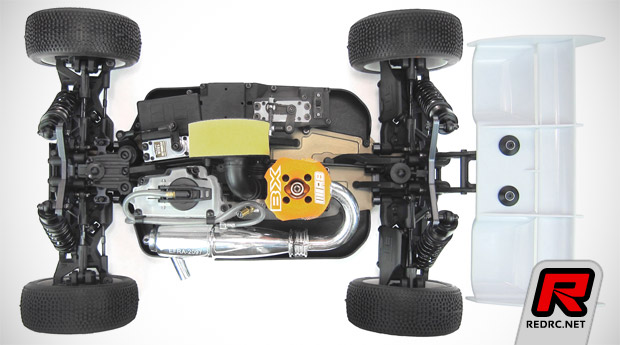 The throttle and brake linkage setups were approached with precision and consistency in mind. The throttle is pulled by a CNC machined assembly riding on ball bearings, while the brakes were designed to be simple and effective. They are side-mounted on the center differential assembly and brake bias adjustments are a simple turn of the connecting turnbuckle.  After testing various disc and brake pad material combinations, it was abundantly clear that a steel disc with semi-metallic brake pads is the best setup.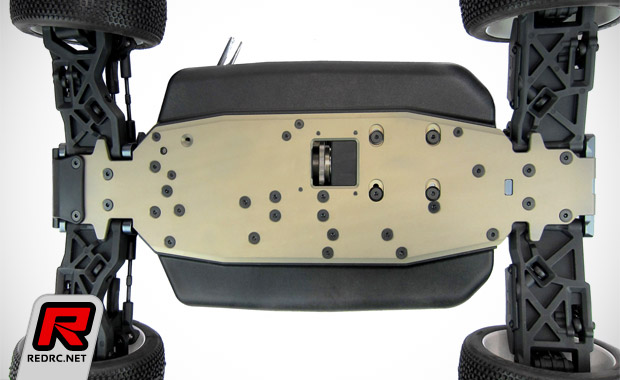 The steering and suspension are direct carryovers from the EB48.  Bulletproof suspension arms, silky smooth 16mm bore shocks, precision steering, and a ton of adjustments will keep you headed in the right direction. The differentials are light and extremely durable and provide consistent leak-free performance tank after tank.
Chassis:
– Optimized Narrow Chassis Layout with Adjustable Weight Distribution and Flex Characteristics
– Engine Can be Mounted in Forward or Rearward Position (18mm offset)
– 4mm CNC Machined Hard Anodized Lightened 7075 Aluminum Chassis
– Integrated Radio Tray/Mud Guard for Unmatched COG, Lightness, and Durability
– Class leading front and rear clearance (short chassis overhang) provides better bump handling and jump landing.
– Spacious, enclosed, easy access radio box with integrated transponder mount.
– Adjustable chassis brace system for fine tuning flex with center, and rear braces.
Differentials and Drivetrain:
– Innovative Rear Offset Differential Provides Minimal Drive Angles and Reduced Wear
– Lightened Drivetrain Components Throughout – Standard
– 3 Fluid Filled Adjustable Lightweight Differentials.
– Less Rotating Mass = Better Acceleration.
– CV Driveshafts with Captured Pins on all 4 Wheels.
Shocks:
– 16mm Bore CNC Machined Hard Anodized Threaded Aluminum Shock Bodies
– CNC Aluminum Shock Caps, Preload Adjusters, and Cartridge Caps
– CNC Machined Tapered Pistons
– 5mm CNC Machined 7075 Aluminum Shock Towers
– Fully Adjustable Long Travel Suspension Geometry Maximizes Stability and Traction While Providing Superior Cornering and On-Power Steering.
– 4mm Hardened Steel Polished Shock Shafts.
– Triple Guide Design for reduced Shaft Deflection.
– Optional spring rates and spring kits are available.
Suspension and Steering:
– 7075 Aluminum Adjustable Hinge Pin Braces
– Adjustable length rear arms to suit any track condition.
– Adjustable front arm sweep and angle to make the car more aggressive (swept forward), or easier to drive (swept back).
– Front and rear arms can be used on either side, rear hubs can be used on either side – less parts in your toolbox.
– Front/rear sway bars are the same length = less parts in your toolbox.
– 'Narrow pivot' steering posts provide '0 bump' geometry without almost 0 steering slop.
– 4mm inner, 3.5mm outer hinge pins, polished for smooth action.
– Adjustable Ackerman and bump-steer (bump in, 0 bump, bump out).
– Ball Bearing Steering System Virtually Eliminates Slop.
– LCG rod ends and lightweight turnbuckles are lowered by 5mm.
– Adjustable steering stops for precise steering travel setting.
Brakes, Clutch, Fuel Tank:
– Steel Disc Brakes with Semi-Metallic Brake Pads are Consistent and Fade-Free
– Ball Bearing Throttle Linkage Assembly for Smooth and Quick Operation
– "Clunk" Style Fuel Tank with Integrated Spill Guard and Outlet
– Adjustable 4-Shoe Clutch System (Compatible with Standard 4-Shoe Clutches)
Other Features:
– Lightened Pivot Balls, Steering Posts, and Wheel Hubs – Standard
– Lightweight easily adjustable wing mount system.
– High downforce wing included.
– Easily adjust anti-squat, rear toe, front arm angle, front arm sweep, roll center, toe, camber, wheelbase, rear arm length, Ackerman, bump steer, suspension geometry out of the box.
– Shares Many Parts with Our Acclaimed EB48 and SCT410 = Less Spare Parts in Your Box
– All metric hex hardware
Source: Tekno RC [teknorc.com]
---