July 24, 2013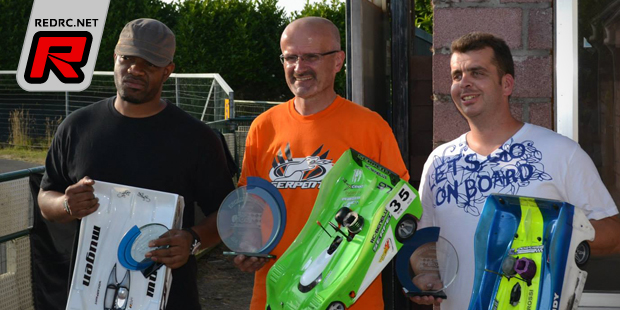 The third round of the Belgian nitro on-road nationals took place at the fast track of the Racing Club Roeselare under excellent weather conditions and with a good amount of racers attending. In the 1/8th class that attracted 21 drivers Yves Zoma (Mugen) was the fastest closely followed by Daan Haling (Motonica), Arie Manten (Xray) and Frank Baggen (Serpent). All four pulled 28 laps in qualifying making for some close racing in the finals. Arie Manten, qualifying third was unlucky in his semi as he did not proceed into the final due to a spur gear problem.

Yves Zoma started from pole position followed by Daan Haling and Frank Baggen. Halfway into the final Daan Haling was in lead with a gap of 2 laps on Frank Baggen until his rear drive belt broke forcing him to retire. Frank Baggen took the lead followed by Nico Vandewynckel (Serpent), who afterwards lost some time and two places due to losing his INS box. After 30 minutes of racing it was Frank Baggen who took the victory three laps ahead of Yerna Hugues in second and Yves Zoma in third place who was down another two laps.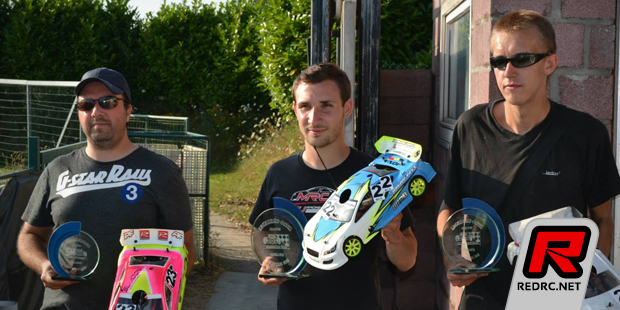 The 200mm class saw Jonathan Sanza (Xray) taking TQ followed by Debaeker Dimitri (Capricorn) and Benkhélifa Raphaël. The 30 minute final of the 1/10th class was won and dominated by Jonathan Sanza who crossed the finish line four laps in front of Dimitri De Baeker and Benkhélifa Raphaël.
Thanks to Christoph Vandepitte for sending the report.
---