July 22, 2013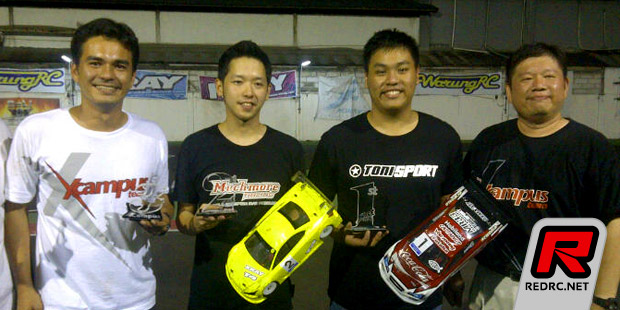 The First round of the Xcampus Challenge Championship was held at the SIS track in Jakarta. Before the race the organisers modified the track layout and added another technical corner to make the track more challenging. The race was run mainly in 13.5T and FWD classes with 40 competitors attending in total. The 13.5T Boosted qualifying saw Bowie Ginting place his VBC onto the TQ spot with 17 laps in 5.07. Ronny Suwarto was next with his Xray, 7 seconds behind the pole man. Peter Anthony (Yokomo) and Ronald Kasengkang (Tamiya) also scored 17 laps and lined-up in 4th and 5th respectively while young hotshot, Muhammad Izzah was a bit shy of the 17 laps with 16 laps in 5.00,0.017 ahead Teddy Syach who placed 6th. In the FWD class Anton Santoso TQ'd 3 seconds from Christian Mamesah for took the runner-up spot.

In the first 13.5T A final Bowie Ginting and Ronny Suwarto successfully pulled away from the rest of the field. Ronny gave his best to chase Bowie, but the latter was able to increased the gap and he crossed the finish line with 5 seconds gap. The battle for 3rd spot had some epic moments as long-timer racer, Rudy Budihardjo took 3rd from his 10th starting position. In the second A final the frontrunners again took off and never looked back. Bowie let from start to finish but the battle for second place had Ronny taking the second spot after Peter, who chased him hard and also passed him two minutes into the race, suffered from a driveshaft failure letting Ronny past again. His problems also allowed Deny Rusli to take the third spot. The third A final was run under floodlight conditions. Bowie once again could took off right away with Ronny, Ronald Kasengkang and Teddy Syach found themselves in an epic battle. The drivers swapped positions countless times and they crossed the finish line with Ronny and Ronald taking the second and third spot, separated by only 0,3 second and 11 seconds behind the leg winner, Bowie. In the FWD class Anton Santoso took the win in the first two legs letting him take the overall victory in advance. A fantastic drive from young boy Christian Mamesah resulted a win in the last leg to secured him a 2nd place ahead of Angga.
13.5T Boosted final result:
1. Bowie Ginting – VBC/Orca
2. Ronny Suwarto – Xray/Orca
3. Teddy Syach – Tamiya/Tekin
4. Ronald Kasengkang – Tamiya/Hobbywing
5. Rudy Budihardjo – Xray/Hobbywing
6. Deny Rusli – Xray/Hobbywing
7. Peter Anthony – Yokomo/Orca
8. Chandra Yosef – TOP/Orca
9. Muhammad Izzah – Serpent/Orca
10. Faiza Murph – Tamiya/Team Powers
Thanks to Bowie Ginting for sending the report.
---