July 16, 2013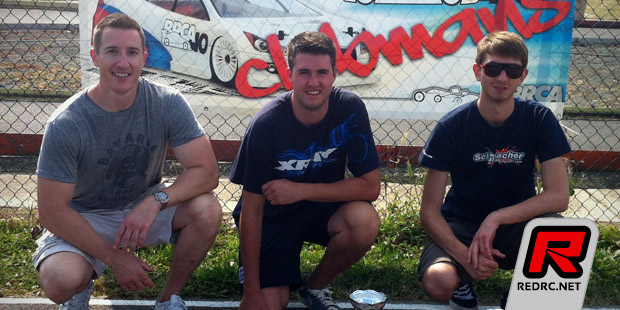 Round 4 of the BRCA Clubman Series electric on-road championship was help at the southern track of Adur. Showing record high temperatures, this would test the drivers to their limits looking at not over heating the control tyres and driving consistency. With the track not being used for electric on-road for a while, Saturday practice was all about rubbering in the track and building the grip up which is vital to not graining the tyres too much. Race day on the Sunday came around with another scorching hot day of 32 degrees air temp. Much hotter than Saturday. Entries coming all over the UK of 90 drivers came down to the fast flowing but technical track to see how they compete against each other. The 17.5 Blinky class showing the bigger entries of 5 heats and the 13.5 Open class showing 4 heats.

Round 1 of qualifying started with the 17.5 Blinky racers going first. Dominic Skinner setting TQ with Gavin Clinch only 4 seconds behind him, showing there isn't much room for any mistakes in this class. 13.5 Open followed with Liam Brooks showing his skills from last year and all this year to set TQ however local driver Kieran Clift set the same time but Liam managed a faster lap time. Andrew Robson was closely following behind with just have a second behind the top 2.
Round 2 saw the temperatures rising still. Dominic remained pole man in the 17.5 class however Gavin having some bad luck dropped a few places with Les Baldry now and the pole man's tail only a second behind. Local driver Kieran managed to find some extra speed and now takes TQ in the 13.5 class with Liam very closely behind by just 3/10ths of a second.
Round 3 was the hottest point of the day and drivers are now watching their tyre temps to make sure they don't overheat them. Gavin Clinch setting an amazing time now becomes the pole sitter on the last run before the finals with Dominic just behind by a second. Les Baldry places 3rd. Not setting any faster times, Kieran still remains in first place with Liam sitting on his tail ready for the finals with Aaron Rose following close behind.
17.5 Blinky qualifying result:
1. Gavin Clinch – 18/307.62
2. Dominic Skinner – 18/308.76
3. Les Baldry – 18/308.99
4. Richard Clarke -18/312.39
5. Darren Tickner – 18/313.25
6. Malc Hall – 18/314.14
7. James Stewart – 18/314.23
8. David Hough – 18/314.86
9. Nigel Shaw – 18/314.97
10. Jason Butterfield – 18/315.14
13.5 Open qualifying result:
1. Kieran Clift – 19/301.68
2. Liam Brooks – 19/301.96
3. Aaron Rose – 19/303.67
4. Damian Giddins – 19/304.19
5. Andrew Robson – 19/305.16
6. Tony Broad – 19/305.27
7. Sam Law – 19/306.11
8. Dale Burr – 19/307.17
9. Tim Hancock – 19/309.95
10. Chris Lovely – 19/310.30
In the A final of the 17.5 Blinky class, both legs Gavin Clinch pulled out a massive lead sitting in the pole seat with Dominic and Les battling each other for 2nd place. There were a few incidents along the way with this class being so close with regards to driving skill and equal speeds down the track. This drivers track really testing the racers to the edge to find out who was the better driver.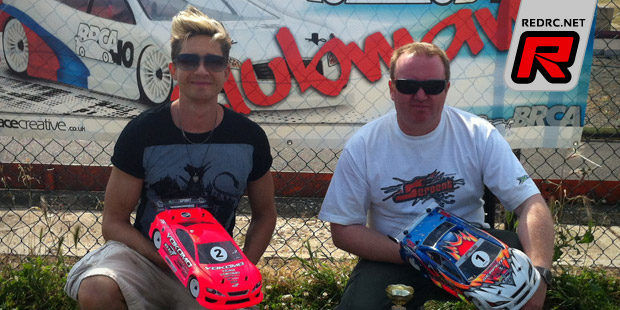 17.5 Blinky A final result:
1. Gavin Clinch
2. Dominic Skinner
3. Les Baldry
In the A final of the 13.5 Open class, Kieran and Liam stormed off into the lead leaving everyone behind while they battled it out to see who would win overall. Kieran making some mistakes along the way and Liam doing two very idenical perfect runs, Liam managed to come 1st overall while Kieran slipped away from the podium letting Aaron Rose to come 2nd and Tim Hancock to take 3rd.
13.5 Open A final result:
1. Liam Brooks
2. Aaron Rose
3. Tim Hancock
The next round of the BRCA Clubman series is at Stafford on the 11th August 2013.
Thanks to Jordan Norwood for sending the report.
---