July 4, 2013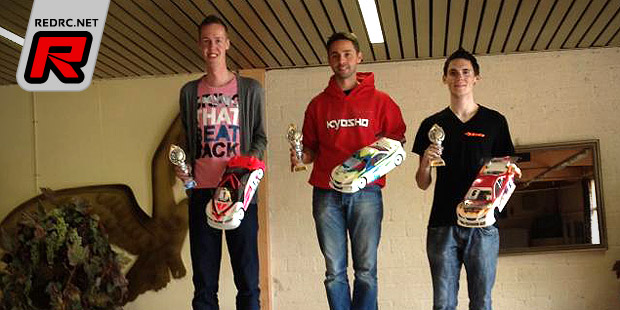 The third round of the 2013 Dutch Nationals took place in Utrecht on the big and flowing track of RACO2000. In the touring car Modified class it was Chris van der Hagen who took TQ in front of Sidney Blokker and Robert Krens. Due to electrical problems of Chris, Sidney won the first A final in front of Robert and Gerrit-Jan Toeters. The second final saw a battle between Sidney and Robert, both on new tyres, but after a small mistake of Robert it was Sidney who won the final again in front of Robert. Johan Ackermans took the third spot. The last final saw a super fast Sidney again who won in front of Johan and Chris.
TC Modified Top3
1. Sidney Blokker – Capricorn – Team Orion
2. Robert Krens – TOP Racing – Team Orion
3. Johan Ackermans – Xray – Speed Passion
In 13.5T Stock Rob Janssen got TQ in front of John Buins and Richard Arts. Rob even sat out one qualifier to spare his tires. Rob choose to stop the first final after one lap to safe tyres again. This gave John the opportunity to win the heat in front of Jitse Miedema and Ronald Arts. The second final had some thrilling battles to offer between Rob and John. John had to wait for almost five minutes to make a pass on Rob and again won the final and further down the field Jitse and Ronald managed to make a pass on Rob. In the third final it was Rob who was able to defend his top position and who won in front of John and Jitse.
TC Stock Top3
1. John Bruins – Kyosho – Fantom
2. Rob Janssen – Tamiya – Gens Ace
3. Jitse Miedema – Spec R – The Border
In Pro Ten it was Nick Boon who got TQ and won all three finals in front of Reinder Wilms and Alexander Fokke.
Pro10 Top3
1. Nick Boon
2. Reinder Wilms
3. Alexander Fokke
Thanks to Robert Krens for sending the report.


---