July 28, 2013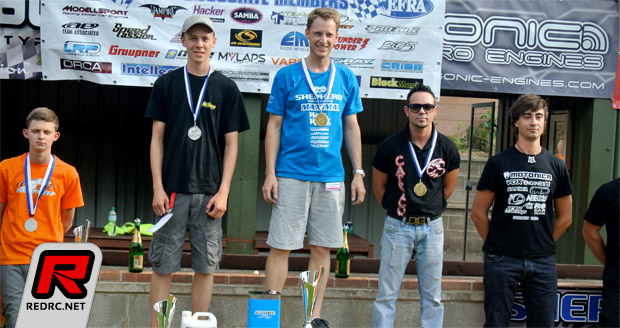 Jilles Groskamp has become the 2013 1/8th Track European Champion here in Halifax after a thrilling final saw him take the win after a race long battle with Brit Kyle Branson, Dario Balestri completed the podium. The finals day in Halifax began with a dry track, something that hadn't happened many times during the week. Hot temperatures began the day but by the time the semi finals were out on track, it had cooled slightly. In the first semi final, Dario Balestri took a dominating win ahead of his Capricorn team mate Daniele Ielasi and Simon Kurzbuch's Shepherd. Balestri finished on 78 laps in 1208.48 seconds with Ielasi on 77 laps in 1205.55 seconds with Kurzbuch just .91 seconds behind. Adrian Bertin took the final definite place with the new KM prototype car but Patrick Schafer would have to wait and see if he had made the final.  The second semi final proved to be a much closer affair with Mark Green taking the win just .32 seconds ahead of the Shepherd of Groskamp. 3rd and 4th in the Semi A, to definitely book their place in the final, were Motonica's Robin D'Hondt and Mugen's Kyle Branson. A noticeable person missing from the final would be Robert Pietsch with the German taking his Novarossi powered Mugen to 8th position. Green's run of 78 laps in 1201.95 seconds proved to be a whole 7 seconds faster than Dario's winning time in the Semi B, putting Mark on pole for the 45 minute main final.
Main Final Starting Grid
1. Mark Green – 78/ 1201.95 (Serpent/Novarossi)
2. Jilles Groskamp – 78/ 1202.27 (Shepherd/Maxima)
3. Dario Balestri – 78/ 1208.48 (Capricorn/Novarossi)
4. Robin D'Hondt – 78/ 1210.48 (Motonica/Vox)
5. Kyle Branson – 78/ 1210.84 (Mugen Seiki/IDM)
6. Oliver Mack – 77/ 1200.02 (Shepherd/Sonic)
7. Lamberto Collari – 77/ 1200.78 (Capricorn/Novarossi)
8. Daniele Ielasi – 77/ 1205.55 (Capricorn/IDM)
9. Simon Kurzbuch – 77/ 1206.46 (Shepherd/Max Power)
10.Adrian Bertin – 77/ 1206.93 (KM/CRF)
After the huge crowds had been warmed up by race commentator Kris Kennedy, the drivers were introduced and the warm up began.  The race blasted off and Mark Green opened up a small gap at the front to Jilles and Dario.  Dario was first into the pits 4.5 minutes into the race, something he did in the semi final, with Mark continuing to lead from Jilles and Kyle Branson after he got past Robin D'Hondt at the start.  After the fuel stops had unravelled, Jilles emerged in the lead ahead of Mark and Kyle.  With some fast pit stopping, Kyle managed to get to the front over the next ten minutes.  Kyle was first into stop for tyres 20 minutes in and Mark Green, Jilles managed to last a few more laps than Mark and this ultimately handed him the lead.  After another fuel stop Mark got back into the lead with Kyle and Jilles nose to tail.  Mark made a slight mistake allowing both Kyle and Jilles through.  Jilles moved into the lead with a fast pit stop and took the European championship for 2013.  Kyle came in 2nd just 0.7 seconds behind with Dario Balestri in 3rd and Mark Green in 4th.  Adrian Bertin came from the back of the grid to finish 5th.  This means that the podium consisted of 3 different engine and car manufacturers and Maxima have secured their first ever European Chamionships.
Finishing Order
1. Jilles Groskamp – 175/ 2706.70 (Shepherd/Maxima)
2. Kyle Branson – 175/ 2707.47 (Mugen Seiki/IDM)
3. Dario Balestri – 174/ 2700.56 (Capricorn/Novarossi)
4. Mark Green – 174/ 2706.14 (Serpent/Novarossi)
5. Adrian Bertin – 173/ 2700.07 (KM/CRF)
6. Robin D'Hondt – 173/ 2708.64 (Motonica/Vox)
7. Simon Kurzbuch – 171/ 2712.36 (Shepherd/Max Power)
8. Daniele Ielasi – 168/ 2709.35 (Capricorn/IDM)
9. Oliver Mack – 163/ 2705.54 (Shepherd/Sonic)
10.Lamberto Collari – 155/ 2714.64 (Capricorn/Novarossi)
A huge thanks goes out to the Halifax club for hosting an amazing event, I'd especially like to thank John and Muriel for their countless hours of devotion over the past two years and club members who helped out.  Thanks to the BRCA and EFRA for running the meeting.
Source: Halifax Euros [halifaxeuros.co.uk]
---