July 11, 2013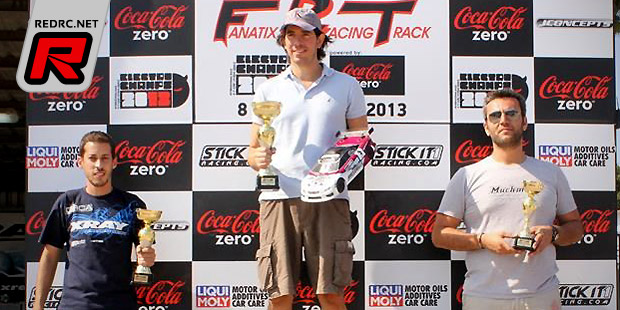 The 3rd round of the Greek National Championship in 1/10 EP Touring was held at the great high speed track of FRT in the North suburbs of Athens. Home track of double National Champion and current points leader, Nick Georgiadis (T4/Orca) who could secure his 3rd consecutive title with a win, the anticipation was at its peak for the outcome of the race between at least four title contenders. Qualifying was full of surprises, with the track heavily affected by strong winds limiting the level of traction and making each turn unpredictable due to gusts. In the end it was Awesomatix/Orion driver John Doucakis who took TQ, five seconds clear of the rest of the field.
Qualifying result
1. John Doucakis – Awesomatix/Orion
2. Fillip Isaakidis – Xray/Advanced Electronics
3. Nick Nikolakopoulos – TOP/MuchMore
4. Dimitris Tsigos – Xray/Orion
5. Dimitris Mitropoulos – TOP/MuchMore
6. Nick Georgiadis – Xray/Orca
7. John Kotsias – Kyosho/Orion
8. Michalis Kyriazis – Yokomo/Orion
9. Dimitris Konstantopoulos – Xray/Orca
10.Akis Gaitis – Xray/Nosram
The Main finals would prove to be as unpredictable as qualifying. A main one and top qualifier John Doucakis could not convert his starting position into a win. In the end Dimitris Tsigos took the win of the first leg. More concentrated than in the first main, John took a flag to flag win being unchallenged and easing off on the final laps to secure a safe point in leg number two. With the cars set on the grid ready for the start of A main number three, a glitch causes the spur gear of John's car to break, forcing him to request a five minute delay for repairs. In great sportsmanship all fellow racers and referee agree to allow this delay but still this meant he would start from the back of the grid. John's car would show great pace and progress through the field up to 2nd position a few seconds behind Nick Georgiadis. This would prove just enough to secure him the overall win.
Final result
1. John Doucakis – Awesomatix/Orion
2. Nick Georgiadis – Xray/Orca
3. Dimitris Mitropoulos – TOP/MuchMore
4. Fillip Isaakidis – Xray/Advanced Electronics
5. Dimitris Tsigos – Xray/Orion
6. Nick Nikolakopoulos – TOP/MuchMore
7. John Kotsias – Kyosho/Orion
8. Michalis Kyriazis – Yokomo/Orion
9. Dimitris Konstantopoulos – Xray/Orca
10.Akis Gaitis – Xray/Nosram
Source: Awesomatix [awesomatix.com] | Image: RCdevil.gr
---