July 15, 2013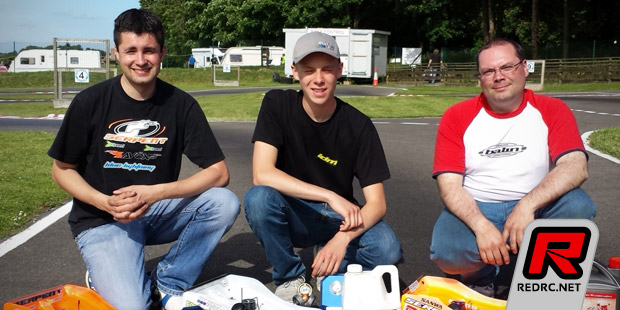 Round 4 of the BRCA 1/8th nitro on-road national championship was hosted by the Cotswolds Club and this was the sections second visit this year. With the Euro A championships only 2 weeks away and with the calendar being very full this season meant that the two rounds at this track were run close together. The weekend started with warm weather and after the initial practice had started, the track was soon starting to rubber in and the cars started to lap in the ball park of around the low 15 seconds per lap. With the track getting quicker, it was Branson who was setting the pace, fresh from his Euro warm up victories earlier in the month. In hot pursuit was Green and Wood, all recording sub 15 second laps with Kyle being the most consistent. Behind these, a host of drivers including North, King, Carr, Frost, Diver, Thurston, Hastings, Bancroft were all recording low 15 second laps.

Sunday arrived and we were treated to sunshine and the prospect of a close fight for honours at all levels and with a good entry of 39 drivers, the competition between drivers of similar skill levels would be intense and nothing taken for granted in the ultimate quest to make the main final.
In round 1, Heat 4 and it was the turn of the big guns to set down a marker the rest to follow. With this being slightly under cloud cover, the thought of this being a 'rocket run' was on everybody's minds. Up front it was Karl Dransfield who got the better of young Alex Thurston and take the victory by 0.5 seconds both recording respectable 20 laps. Into the top heat and yet again it was Branson who recorded 21 laps in 311 seconds which at this early stage guaranteed a final place and possibly the TQ spot due to his dominant margin over Green. The first casualty of the heat was Frost followed by North. Wood, Andy Hastings and Diver all completing 20 laps runs.
Round 2, Heat 4 and much of the same but this time it was Thurston who won the heat from Ashley Gouveia who was racing Pete Hastings Shepherd chassis for the first time. Heat 5 and Green won the heat with 20 laps after Branson did not make the start after a crash which was caused by a faulty battery lead connection. Frost and North also produced mid 20 lap results to push them up the order but these times did not make a final place a certainty just yet.
Round 3 Heat 4 and it was John Carr who recorded 20 laps but in a slow time but this would bump him up the overall standings where he belongs. Heat 5 and a win for Green from Wood and Frost. Branson after an engine retune finished 4th with North 5th and improving his time by a second.
Round 4. Heat 4 and for some drivers who had not made the cut the pressure was still on. King was one of those drivers but yet again he managed to pull one out of the bag to record a 20 laps 305 result to put him 4th overall. Behind, Thurston and Gouveia did not improve whilst Carr hit problems and he would eventually have to settle for the B final after a brilliant season so far. Heat 5 and improvements for Frost and North confirmed a final place but it was Branson who again stamped his authority by recording 21 laps to take another TQ.
Qualifying result:
1. Kyle Branson – Mugen/IDM Sirio – 21 laps 311s
2. Mark Green – Serpent/Novarossi – 20 Laps 301s
3. Tim Wood – Serpent/Exceed – 20 Laps 303s
4. Neal King – Mugen/Sirio/Contact – 20 Laps 305s
5. Jason Frost – Serpent/Novarossi – 20 Laps 306s
6. Andy North – Mugen/Sirio/Contact – 20 Laps 306s
7. Andrew Hastings – Shepherd/Sonic – 20 laps 307s
8. Karl Dransfield – Shepherd/Sonic – 20 Laps 309s
9. Neil Diver – Mugen/Reds – 20 Laps 309s
10.Alex Thurston – Serpent/IDM – 20 Laps 309s
The A final started in grid order with no major accidents. Branson then set about building a big lead over Green and Wood. The battle for 4th was between Frost/North and King with Thurston keeping all them on the pace. The first casualty however was Dransfield who had engine problems before the start and had to change the engine. He then later rejoined the race but the gap was too big and eventually finished last. Upfront Green hit a back marker and had to visit the pits for body repairs which allowed Wood to take over second. After numerous incidents, North was in a comfortable 5th place behind team mate King. Green however recovered from his crash and eventually drove back into a podium position. In the end, a comfortable victory for Branson who is now only one victory away from Green in the overall championship standings.
A final result
1. Kyle Branson – Mugen/IDM Sirio – 117 laps
2. Tim Wood – Serpent/Exceed – 115 Laps
3. Mark Green – Serpent/ Novarossi – 114 Laps
4. Neal King – Mugen/Sirio – 112 Laps
5. Andy North – Mugen/Sirio – 111 Laps
6. Jason Frost – Serpent/Novarossi – 111 Laps
7. Alex Thurston – Serpent/IDM – 109 Laps
8. Neil Diver – Mugen/Reds – 108 Laps
9. Andrew Hastings  – Shepherd/Sonic – 99Laps
10.Karl Dransfield – Shepherd/Sonic – 92 Laps
The next round is after the European Championships at Adur on 11th August 2013.
Thanks to Andy North for sending the report.
---