July 5, 2013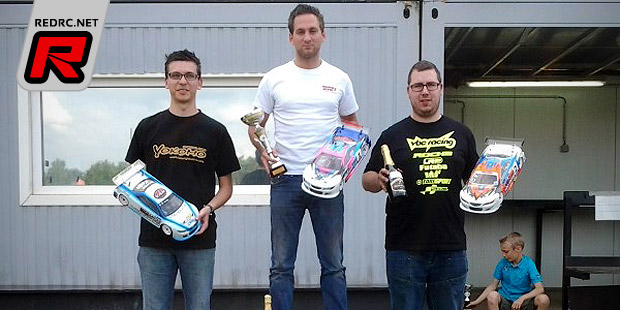 For the fourth race of the season the Belgian electric touring car racers travelled to the track of MRG next to the famous karting track of Genk. In the EFRA class it was Manuel Henriet (Awesomatix) who took the TQ honours. Olivier Bultynck was second and last year's winner Nick Joosens took the third place on the grid. Come the first A final Manuel took the lead followed by Olivier and Nick. Manuel was driving on the edge and Olivier was trying hard to find a gap to overtake. Every spectator was enjoying this fair fight between the two drivers. It was a fight over the full five minutes and they never touched each other. At the end Manuel took the win just in front of Olivier and Nick.

The start of the second final had a scary moment for Manuel. He touched the curb in the third corner and his car went sideways through the corner. Olivier did not touch him so that Manuel's car came back on his wheels and he could go on in the lead. Manuel was to strong for the rest and went away. Meanwhile Olivier was in a battle with Nick and just behind was Thomas Stockman. Olivier was on his way to secure his second place when a lapped driver hampered him so much that Nick could slip through to take second place. Manuel took the second win of the day and therefore the overall win of this race. Nick was happy with his second place but Olivier was disappointed with his third place because of the unnecessary incident. Manuel opted to attend in the last A final as he wanted to win a third time. From the tone the train was on the way with Manuel, Olivier, Nick and Thomas. Manuel was strong and kept the lead, Olivier tried the best he can to follow him but lost the second and even third place. Therefore Manuel won in front of Nick and Thomas. The overall result saw Manuel Henriet (Awesomatix) in first place, followed by Nick Joosens (Yokomo) and Olivier Bultynck (VBC).
Thanks to Krist Bultynck for sending the report.
---