July 12, 2013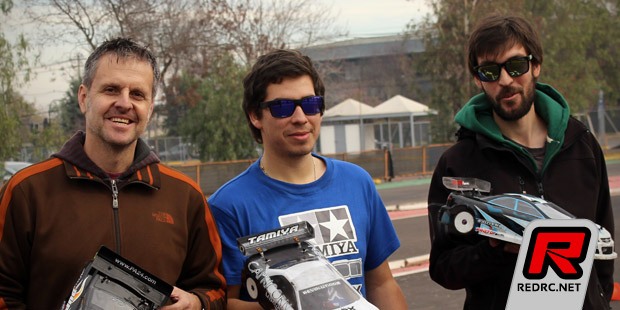 Last weekend saw the final round of the Minituerkas RC Opening Championship 2013. Minituerkas RC's track is located in the National Stadium in the capital of Chile, Santiago. In the early morning the weather was cloudy but the track temperature ideal and the drivers were anxious to race on this final stage of the championship in the three racing categories of the club, 1/10th electric touring 8.5T, 1/10th 200mm nitro and 1/8th GT. After a hard time in qualifying Tomás Ramirez TQ'd the 8.5T class, Paolo Tamburini grabbed the top spot in 200mm nitro and Fernando Fernandez pulled the fastest 1/8th GT time.
Top 10 Electric Touring 8.5T
1. Tomás Ramirez – 18L 5:00.118
2. Eduardo Argandoña – 18L 5:03.223
3. Alvaro Jara – 18L 5:09.143
4. Paolo Tamburini – 18L 5:11.537
5. Ernesto Grez – 18L 5:14.600
6. Raimundo Puelma – 17L 5:04.279
7. Luis Vasquez – 17L 5:30.563
8. Angelo Vilaza – 16L 5:04.315
9. Alejandro Chacana – 15L 5:15.345
10.Pablo Olivos – 14L 5:16.116
Top 10 200mm nitro
1. Paolo Tamburini – 18L 5:07.186
2. Tomás Ramírez – 17L 5:00.291
3. Pablo Olivos – 17L 5:15.827
4. Alvaro Jara – 16L 5:03.916
5. Daniel Lopez – 16L 5:08.874
6. Cristian Gatica – 16L 5:10.557
7. Alejandro Chacana – 15L 5:10.983
8. Angelo Vilaza – 14L 5:06.118
9. Marcelo Rebolledo – 13L 4:33.511
10.Oscar de la Iglesia – 13L 5:14.315
Top 10 1/8th GT
1. Fernando Fernandez – 24L 7:08.862
2. Jose Miguel Selles – 23L 7:03.240
3. Andres Astudillo – 23L 7:07.349
4. Cristian Gatica – 22L 7:10.658
5. Luis Vasquez – 22L 7:14.994
6. Ernesto Grez – 21L 7:06.467
7. Julio Ceballos – 21L 7:10.614
8. Bastian Vega – 19L 7:07.006
In the 1/10th Electric Touring 8.5T final, Tomás Ramirez (Tamiya) started from pole position, followed by team Xray drivers Eduardo Argandoña and Alvaro Jara. A fast start from Ramirez allowed him to take the advantage over Eduardo who spun out on the start, letting Alvaro Jara take the 2nd place and Paolo Tamburini (Team Associated) followed in 3rd position. Halfway through the race Hotbodies driver Ernesto Grez started to push very hard on Paolo Tamburini who could not hold the pressure making a few mistakes allowing Ernesto to take the 3rd Place.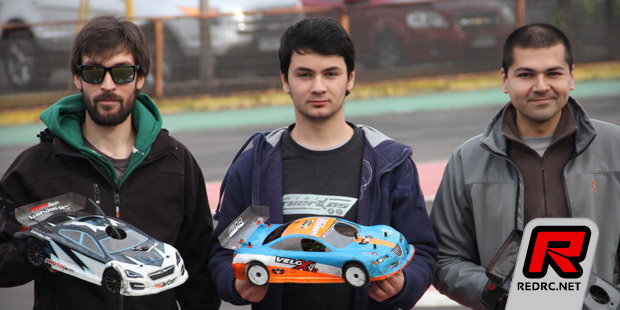 In the 1/10th 200mm nitro class, Paolo Tamburini (Shepherd) who took TQ from Tomas Ramirez (Capricorn) was on a different tyre strategy who letting him take the final, followed by Ernesto Grez (Capricorn) and the Capricorn driver Oscar de la Iglesia in 3th Place.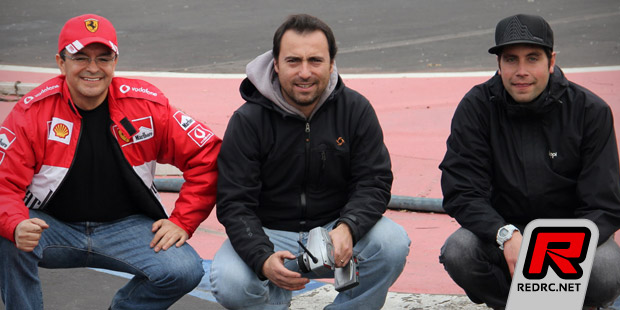 In the final of the 1/8th GT class, a great race between Fernando Fernandez, beating the track record every lap, Jose Miguel Selles and Andrés Astudillo left the track announcer voiceless. In the end it was Fernando who took the win in front of Jose Miguel and Andres. Despite taking the 1st place in round number 6, Fernando Fernandez could not take the overall championship, which was won by Andres "El Cuate" Astudillo.
Thanks to Tomas Ramirez for sending the report.
---