July 31, 2013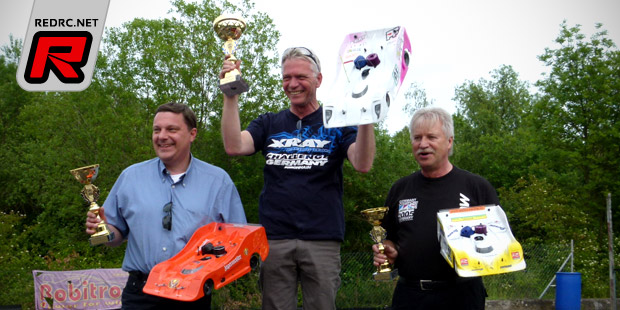 The second half of the Nitro-West-Masters 2013 will start with round four held at the Velp track in the Netherlands this coming weekend. Located close to the German boarder the Velp track is of a challenging layout and 260 metres long. It is the fifth year of this popular championship mainly run in Western Germany and it is only the second time this nitro series is going abroad of Germany. With no official licence being needed the Nitro-West-Masters is a class for everybody and the tyres are open with additives strictly forbidden. The racing format is the same as in previous years with three seven minute heats and the three best consecutive laps to count for the qualifiers. The race format sees four direct qualifiers and the race is run in Sunday with the Saturday being the official practice day.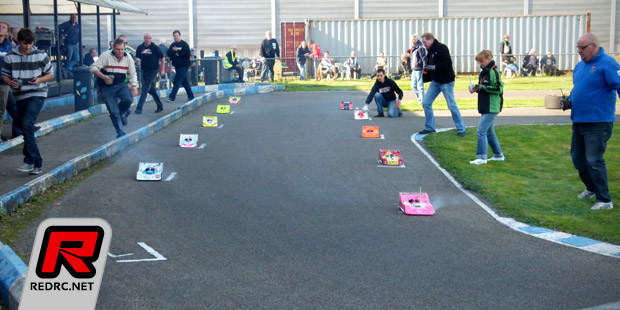 One year ago it was Thilo Toedtmann winning the 1/8 scale class and Dutch racer Pedro Rombouts taking the 1/10 scale 200mm class, while young Philipp Roemer was victorious in the 1/8 scale Hobby class with 5-port standard engines from Novarossi and Sonic. This year a second standard class, 1/10 scale 200mm Hobby, has successfully been launched in addition to the existing 8th and 10th classes with Xceed being the spec engine, similar to the Sonic Hobby engines. At halftime, the leaders in the Nitro-West-Masters point standings are Christian Wurst (1/8th), Daniel Toennessen (1/10th), Matthias Guenther (1/8th Hobby) and Sebastian Barlak (1/10th Hobby). A total of 77 nitro racers have collected points so far in the three rounds, held in Oberhausen, Bad Breisig and Dueren.
In VG8 René Puepke took the win at the season opener in May at Oberhausen with Christian Wurst in second and Ralf Vahrenkamp in third position, making it a 1-2-3 for Serpent. Shepherd racer Frank Schewiola achieved a victory in Dueren sharing the podium with Christian Wurst in second and Uwe Baldes (Mugen) in third position. Schewiola did it again when the Nitro-West-Masters came to the Motodrom Rhein-Ahr at Bad Breisig for round three of the series where he left Uwe Baldes and Alain Levy (Mugen) behind.
Top 10 1/8th:
1. Christian Wurst – Serpent/Sirio – 355 points
2. Ralf Vahrenkamp – Serpent/Novarossi – 351
3. Uwe Baldes – Mugen/Orcan – 350
4. Ralf Wacker – Mugen/Novarossi – 338
5. Michael Woeste – Capricorn/Novarossi – 335
6. Frank Schewiola – Shepherd/O.S. – 242
7. Christian Rönicke – Mugen/RB – 231
8. Ingo Odenthal – Serpent/Novarossi – 226
9. Martin Baumann – Serpent/Novarossi – 226
10.Rainer Rosskothen – Mugen/GRP
In the 1/10th class Daniel Toennessen showed an excellent performance and made it to the podium at every race, winning the first two rounds and finishing third in round three. At the Oberhausen meeting Xray racer Pedro Rombouts came in second behind Mugen racer Toennessen and in front of Serpent's Joerg Baldes. In Dueren Toennessen was joined by Arndt Bernhardt (Serpent) and Marco Nenner (KM) on the podium. Only at the Bad Breisig round Toennessen has been beaten so far when Andy Weyhoven caught the victory with Xray fellow Thilo Toedtmann on second followed by Toennessen.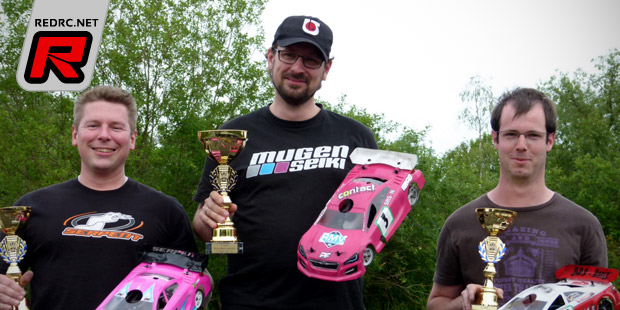 Top 10 1/10th:
1. Daniel Toennessen – Mugen/RB – 360 points
2. Faehd Labik – Xray/Team Orion – 341
3. Hermann-Josef Fuchs – Serpent/Novarossi – 341
4. Dirk Zschaebitz – Serpent/Orcan – 333
5. Melvin Diekmann – KM/Team Orion – 233
6. Thilo Toedtmann – Xray/Novarossi – 231
7. Joerg Kleineberg – Mugen/O.S. – 224
8. Stefan Schumann – Xray/Orcan – 223
9. Arndt Bernhardt – Serpent/Xceed – 221
10.Ferdinand Reineke – Xray/Novarossi – 218
The 1/8th Hobby class is part of the Nitro-West-Masters for the third years now. This basic class goes from strength to strength and is already the class with the highest number of entries at certain events. While Sebastian Scheidweiler (Shepherd) managed to win at Oberhausen followed by Motonica racer Martin Figge and Udo Tappertzhofen (Kyosho), it was Ruediger Hepp, father of Tobias Hepp, who pushed his Xray to victory at his comeback on his home playground at Dueren with Matthias Guenther (Mugen) and Reinhard Zick in second and third. At Bad Breisig Ruediger Hepp jumped onto the podium again but this time it was reigning champion Philipp Roemer (Xray) who captured the victory in front of Hepp and Zick.
Top 10 1/8th Hobby:
1. Matthias Guenther – Mugen/Novarossi – 349 points
2. Martin Figge – Motonica/Sonic – 343
3. Juergen Lehmann – Serpent/Novarossi – 340
4. Klaus Kirschner – Mugen/Novarossi – 338
5. Jens Kopetzki – Serpent/Novarossi – 327
6. Ruediger Hepp – Xray/Novarossi – 240
7. Reinhard Zick – Mugen/Novarossi – 236
8. Philipp Roemer – Xray/Novarossi – 234
9. Sebastian Scheidweiler – Shepherd/Sonic – 233
10.Joachim Kuehn – Xray/Novarossi – 233
After the success of the 1/8th Hobby class is was just logical to introduce a basic class in 1/10 scale as well. The HC10 is a class of its own for the first time in 2013. As in the larger standard class, engines from Novarossi, Sonic and Xceed are allowed. At the debut in Oberhausen Hans-Werner Dietz (Xray) took the win ahead of Sebastian Barlak (Serpent) and Guido Burghartz (Kyosho), while Florian Trapp, a rookie at round two, celebrated two wins in a row at Dueren and Bad Breisig. Coming in second at the Dueren round was old-boy Werner Vogel (Kyosho) in front of Dietz, with the second spot in Bad Breisig was achieved by Barlak ahead of Wilfried Huebner (Serpent).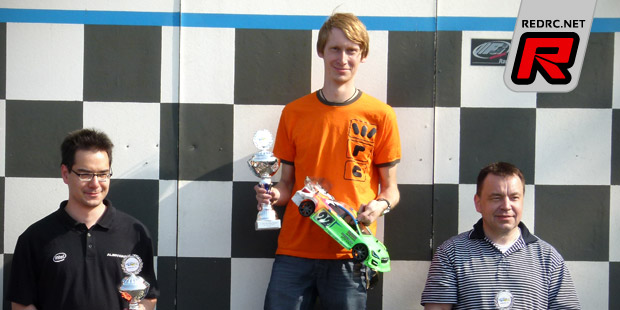 Top 10 1/10th Hobby:
1. Sebastian Barlak – Serpent/Sonic – 354 points
2. Hans-Werner Dietz – Xray/Novarossi – 352
3. Matthias de Keyser – Kyosho/Sonic – 350
4. Philipp Wisniewski – Mugen/Novarossi – 345
5. Florian Trapp – Xray/Sonic – 242
6. Werner Vogel – Kyosho/Novarossi – 233
7. Guido Burghartz – Kyosho/Sonic – 233
8. Wilfried Huebner – Serpent/Xceed – 233
9. Michael Stein – Mugen/Sonic – 116
10.Michael Giesen – Kyosho/Sonic – 114
Source: Nitro-West [nitro-west.de]
---