July 12, 2013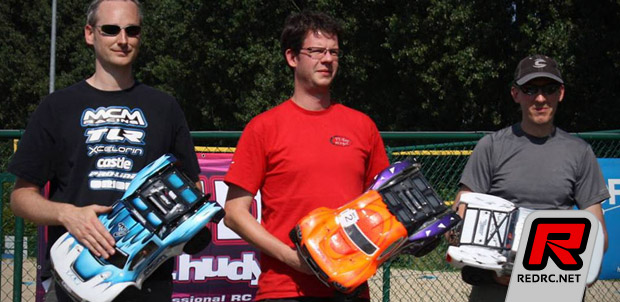 In a great mix of zen attitude, firmness and professionalism, the crew of BPT Merchtem hosted the first Belgian SCT Cup race of the year to be run on astroturf. Track is located in a sport complex and features a challenging layout, with a quite bumpy surface, fast corners as well as big air jumps. The grip fluctuated a lot during the day, starting by being very low due to morning dew and being high once the generous sun dried it out before first qualification heat. The race also saw the attendance of many new faces who mixed things up. In 2WD qualification, Jean-François Renard (TLR 22SCT) and Nicolas Evens (TLR 22SCT) battled for pole position, both showing a significantly faster pace than the rest of the pack. In the end Nicolas got the TQ in front of Jean-François with Filip De Keersmaecker (Durango) taking third place on the grid.
2WD A-Main grid
1. Evens Nicolas – TLR 22SCT
2. Renard Jean-François – TLR 22SCT
3. De Keersmaecker Philip – Durango DESC210
4. Edouard-Benoît Michez – SC10
5. Philippe Gustin – SC10
In 4WD, Kurt Vanvlemen and David Pauwels, both new to the category and their cars piloting the new Tekno SCT410, battled for TQ with David coming up in first.
4WD A-Main grid
1. David Pauwels – Tekno SCT410
2. Kurt Vanvlemen – Tekno SCT410
3. Evens Nicolas – TLR SCTE
4. Philippe Hoevelinck – TLR SCTE
5. Ronny Socquet – Tekno SCT410
The 2WD B final was dominated by Geoffrey Ilijas who won two finals out of three with a lap margin. Thomas Lété won the opening leg of the finals and ended up second. The A final was a good battle between Jean-François Renard  and Nicolas Evens, with close and clean racing, one lap ahead of the rest of the field. Jean-François took the first two legs and won his first race of the SCT Cup after being on every podium this year. Philippe De Keersmaecker completes the podium and comes back in good form after his B final win in Liège. At only 13 years, Julian André finishes fifth in this race.
2WD A-Main results
1. Jean-François Renard – TLR 22SCT
2. Nicolas Evens – TLR 22SCT
3. Philip De Keersmaecker – Durango DESC210
4. Michez Edouard-Benoît – SC10
5. Julian André – SC10
In the 4WD B final, Dieter Hoevelinck outpaced everybody and took a comfortable win in front of Christophe Leurquin . The A final was more open with each driver on the podium taking a win. David Pauwel and Kurt Vanvlemen were the quickest on the track but some mistakes here and there kept the race interesting until the final leg. David put in the fastest time of the finals during leg three ensuring him the overall win, followed by Kurt and Nicolas Evens.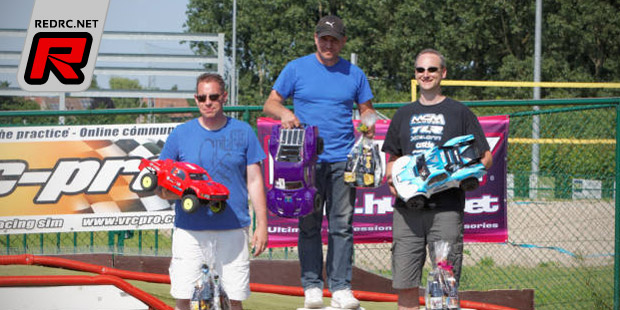 4WD A-Main results
1. David Pauwels – Tekno SCT410
2. Kurt Vanvlemen – Tekno SCT410
3. Evens Nicolas – TLR SCTE
4. Philippe Hoevelinck – TLR SCTE
5. Ronny Socquet – Tekno SCT410
Source: Belgian SCT Cup [belgiansctcup.be]
---