July 4, 2013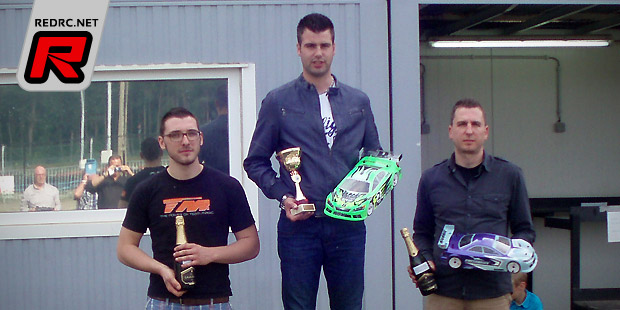 The fourth round of the 2013 Belgian Championship took place in Genk and it was Stefan Rommens who took TQ in the touring car Superstock class by laying down a super fast last qualifier. Geoffrey Vekemans claimed the runner-up spot with Maxim Naegels putting his car third on the grid. The first A final saw a mix-up in positions after Geoffrey and Stefan had a coming together in the fourth lap. Maxim Naegels and Christophe Charlier took profit of the situation and went for a 1-2 finish with a recovered Geoffrey taking the third position.

The second A final was a much cleaner affair. Stefan took off and never looked back while Stefan did the best he can to follow. Maxim though wasn't able to follow Stefan and secured a third place in this second final. The third and last final would be the decider and this caused TQ Stefan to become nervous resulting in some costly mistakes. Geoffrey took the lead and further down the field Maxim had a collision. Stephane Roufosse, starting from 7th on the grid, attacked Geoffrey for the lead in the last lap but Geoffrey took the win in front of Stephane and Christophe Charlier. This handed Geoffrey Vekemans (ARC) the win of round four of the championship with Maxim Naegels (Xray) in second and Christophe Charlier (Awesomatix) in third place.
Thanks to Danny Vekemans for sending the report.
---