August 8, 2013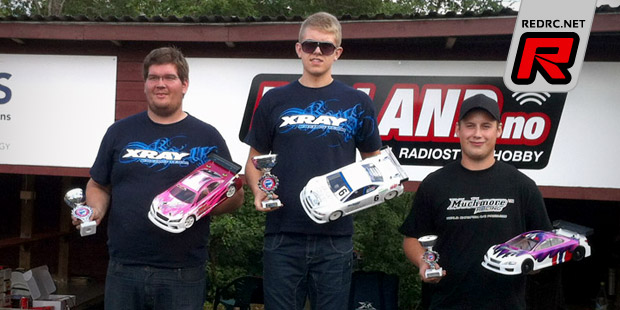 The fourth and final round of the Norwegian national outdoor series was held at the Sorlihavna race track in Lorenskog, just outside of Oslo. The race saw a record entry of drivers with 27 drivers attending in the 1/10 touring modified class which is more than at any other race this season. The Sorlihavna racetrack is a pretty small and technical track which suits the modified-class perfectly but as Q1 started, many drivers struggled to finish their 5 minute heats without troubles. The only driver to finish his race without issues was Xray driver Oskar Fjeld who actually had his fastest overall qualifier in Q1. Adrian Berntsen held the runner-up spot despite a body tuck during the run.

In Q2 nobody was able to beat the current TQ time, but Georg Ellingsen, Tom Erik Haaversen and Thomas Holmesland improved their times and passed Adrian in the overall result. Come Q3 Adrian looked to smash the TQ time but a broken rear belt at the 4 minute mark let Thomas Holmesland take the TQ honours with a time 1.5 seconds faster than Oskar Fjeld's time.
Adrian Berntsen, who had bad luck in the qualifiers had a good start into the final eventually overtaking Rune Svestol right from the start and putting pressure on both Tom Erik and Georg who raced in 3rd and 4th position. Thomas and Oskar pulled away from the field. Adrian's aggressive driving paid out as on lap 7 he was able to pass Thomas for the lead and later on cruised to a win in leg 1 some six seconds ahead of Thomas with Roger Berntsen in third position. Leg 2 saw Adrian rolling while trying to pass George but this did not stop him from taking another win in this race thanks to the pace he was able to go. Again he came in some 7 seconds ahead of Thomas securing him the day's win with one leg to go. The last A-final saw Adrian taking the win again while Oskar and Roger battled for second position. Thomas got a DNF in this run, but he was still secured 2nd spot overall after coming 2nd in the first two finals. In the end Oskar was able to take the 2nd place in this final while Roger finished 3rd. This meant that Oskar took the overall 3rd spot in the race.
Top 10 final results
1. Adrian Berntsen
2. Thomas Holmesland
3. Oskar Fjeld
4. Roger Berntsen
5. Kjell Gunnar Guttormsen
6. Georg Ellingsen
7. Tom Erik Haaversen
8. Rune Svestol
9. Arild Andersen
10. Stig O. Alstad
In the 2013 championship the battle for the win was between Xray's Thomas Holmesland, Oskar Fjeld and Christer Antonsen. But with Christer only managing to get into the C-main, his chances were pretty much spoiled. That meant that the title was open for either Oskar or Thomas. Even though Thomas finished better in the last race, Oskar still had more points than Thomas, and therefore Oskar A. Fjeld took his first Norwegian National Outdoor series title.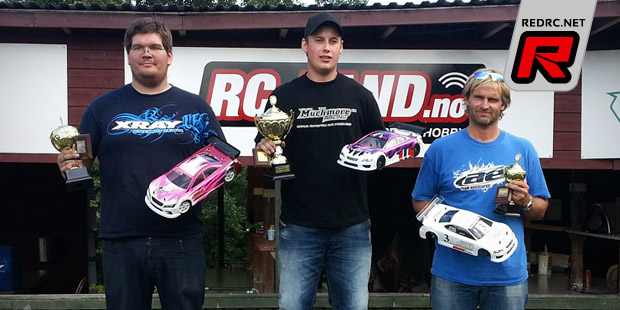 Top 3 2013 championship
1. Oskar Fjeld
2. Thomas Holmesland
3. Kjell Gunnar Guttormse
Source: Xray [teamxray.com]
---