August 27, 2013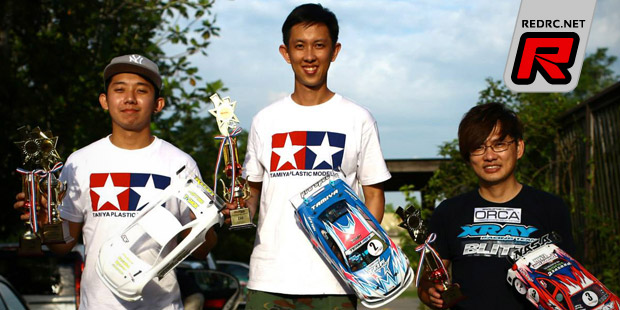 While weather issues dominated a large part of the season, the story of round 6 of the RaceWorks Elite Racing Series saw the domination of Team Tamiya SG and Alvin Koh. In qualifying, Tamiya's Nicholas Lee secured the TQ position, followed by Team Xray Singapore's PY Tang, with series leader Alvin Koh (Tamiya) in 3rd position. Qualifying strongly also was Team Yokomo Singapore's Marcus Choo in 4th. Given Nicholas' pedigree, his pole position for the first leg of the 4-leg finals was always going to be a tough one for anyone to overcome. What his racing rivals could not overcome, Nicholas' electronics did as they shut-down after the first lap. This opened the door for Alvin to come through to take the win. Confirming the strong pace of Team Yokomo Singapore was the 2nd position finish for Alan Leung, with PY Tang in 3rd.

The grid for the 2nd leg of the finals started in race 1 finishing order, which meant that Nicholas Lee's DNF in the previous leg would see him start from the back. Alvin Koh capitalised on his pole position to take his second win to place one hand on the winner's trophy. PY Tang finished second, and Nicholas came through the pack to secure 3rd to keep his hopes alive. Leg 3 started with a reverse grid formation, a unique feature of this series to keep the finals exciting. Despite starting from the tail end of the grid, Nicholas Lee outperformed the field to take the win, while Alvin Koh finished 2nd and Alan Leung took 3rd. With two wins and a 2nd place, Alvin Koh secured the win for this round, with only the remaining podium positions up for grabs in the last leg. With the reverse grid formation again featuring in leg 4, Nicholas Lee would have his work cut out as he once again started from the rear. Just like in the previous final, Nicholas would carve his way through to take the win, with PY Tang in 2nd and Alan Leung finishing 3rd.
The overall results would see Team Tamiya SG securing their first 1-2 finish for the season, with Alvin Koh taking his third race win and Nicholas Lee grabbing second place. PY Tang finished 3rd. Alvin Koh goes into the season finale with a slender 3.5 points lead over PY Tang in the drivers' championship. Team ARC Singapore's Nelson Lee is in 3rd position now. In the team standings, Team Tamiya SG further consolidated its lead over Team Xray Singapore, while Team ARC Singapore remains 3rd. Team Yokomo's strong performance this round saw them leapfrog Team HB/HPI to be in 4th. The season reaches its exciting conclusion at the next round on September 1st.
Thanks to HJ Quek for sending the report.
---