August 27, 2013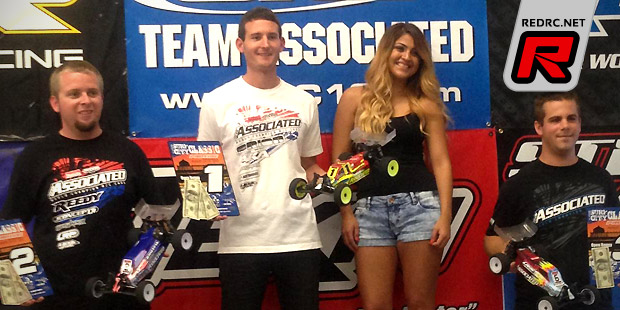 The 2013 Pro-Line Surf City Classic was held at OC R/C Raceway in Huntington Beach, CA. This annual event is known to bring in many of the top drivers from the West Coast as well as a great local following. This years event wouldn't disappoint with these drivers in attendance: Ryan Cavalieri, Ryan Maifield, Dustin Evans, Steven Hartson, Mike Truhe, Cody Turner, and  many more. This years layout proved to be very challenging and traction was at an all time high to make for great racing. The race schedule saw open practice on Thursday and Friday with three rocket round qualifiers on Saturday and lower main bump-ups following single 10 minute A-main events on Sunday.

In 2WD Modified Buggy Team Orion Factory Driver Ryan Cavalieri went on to TQ the 3rd and final round of qualifying to take the overall TQ. Cavalieri took full advantage of his TQ position and set a fast pace that was hard to match. Ryan drove a perfect 10-minutes never loosing the lead. When the checkered flag waived, it was Cavalieri being the only driver to make it by for the 32nd lap and take the win. Second place went to Associated team mate Ryan Maifield with Steve Hartson completing the podium.
2wd Modified Buggy Top 3
1. Ryan Cavalieri – Team Orion/Team Orion/Team Orion
2. Ryan Maifield – LRP/Reedy/Reedy
3. Steven Hartson – LRP/LRP/Reedy
In Modified Truck Ryan Cavalieri would also take the overall TQ in this class with a great run in round three of qualifying. The Team Associated driver once again would take full advantage of his number 1 starting position and set the pace. RC was on another level and laid down another perfect 10-minute run to take the uncontested win. TLR's Mike Truhe came in second, Kevin Motter finished third in the A main.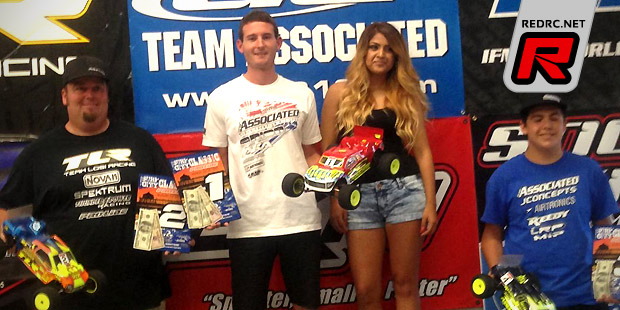 Modified Truck Top 10
1. Ryan Cavalieri – Team Orion/Team Orion/Team Orion
2. Mike Truhe – Novak/Novak/Thunder Power
3. Kevin Motter – LRP/Reedy/Reedy
After 2wd Modified Short Course qualifying was complete, it was AE's Kody Numedahl who would take the overall TQ. At the start of the tone he was leading the field around for lap one with a big pile up going on behind him. After lap two it was Cody Turner making the big move all the way up to 2nd and Root in 3rd. Evans was shuffled back to 6th. Numedahl would lead up to the 8-minute mark. With just a few laps left, a mistake by Numedahl dropped him back to 3rd and handed the lead over to Turner with a hard charging Evans into 2nd. With two laps to go, Turner makes a small bobble and Evans gets around for the lead and hangs on for the win. Turner would hold strong in 2nd and Numedahl would finish 3rd. Root would finish a respectable 4th.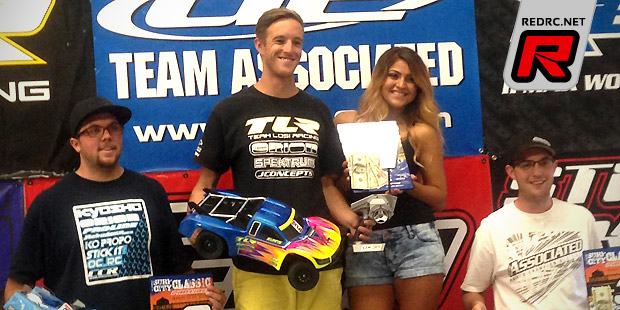 2wd Modified Short Course Top 3
1. Dustin Evans – Team Orion/Team Orion/Team Orion
2. Cody Turner – Team Orion/Team Orion/Team Orion
3. Kody Numedahl – LRP/Reedy/Reedy
Thanks to Joe Pillars for sending the report.
---