August 14, 2013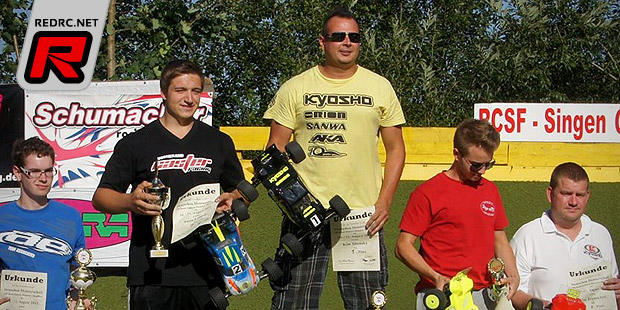 The German electric truck nationals took place at the astro turf track of the RCSF Singen last weekend. Run in 1/10th 2WD racing truck and 2WD short course truck the drivers were faced with a fast and flowing layout ideal for mid-motor vehicles. Kim Sitensky (Kyosho) was the man to beat after dominating the practice and qualification he found himself on pole position in both the racing truck and SC class. Local hero Swen Lauber took the second spot with Florian Eberhard owing the third spot in the truck class after qualifying. In SC Christian Geier placed his Associated truck in second place with Florian Eberhard in tow. Come the A final of the racing truck class Kim made for an early decision by winning the first two A finals in style handing him the 2013 racing truck title early. The runner-up spot went to Swen Lauber, Dirk Endres completed the podium.
Racing truck A final result
1. Kim Sitensky
2. Swen Lauber
3. Dirk Endres
4. Stefan Knott
5. Fabian Widmer
6. Tim Bremicker
7. Martin Schweickhardt
8. Martin Scharrer
9. Thomas Wegmann
10.Eberhard Florian
In the short course class Kim again excelled and took the title early. Swen Lauber came in second with Christian Geier taking the last remaining podium spot.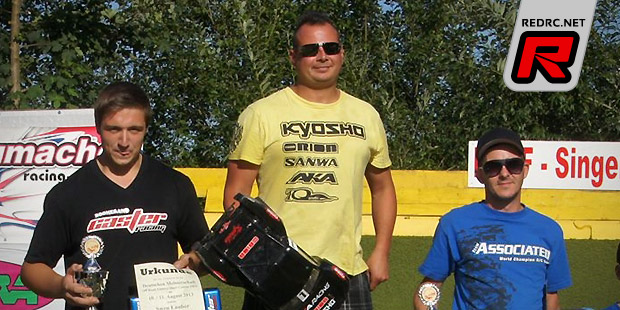 Short Course A final result
1. Kim Sitenksy
2. Swen Lauber
3. Christian Geier
4. Robert Hart
5. Florian Eberhard
6. Stefan Knott
7. Stefan Mößner
8. Paul Svoboda
9. Sebastian Steger
10. Martin Schweickhardt
Source: Thunder Tiger Europe [thundertiger-europe.com]
---