August 23, 2013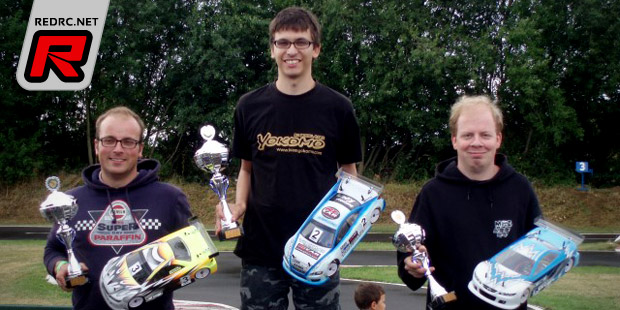 The 6th round of the Belgian 1/10 Electro Touring Car championship was held at the excellent MRCL track in Bierset. The weather was superb on Saturday but come Sunday it started to rain. With a mix of dry moments and rain showers, qualification was difficult for everyone. Manuel Henriet set the fastest time with his Awesomatix, with Nicolas Delisé in second place and Bart Van Sande taking the third spot on the grid in the Efra class.

The difficult conditions were also present in the finals and the first leg took place in totally wet conditions so many drivers opted €to sit out the round. Nick Joosens though hat a splendid start and took the lead in front of Bart Van Sande. Nick opened a gap but suddenly his car became difficult to drive and Bart was able to pass Nick. Also Thomas Stockman was coming fast from 8th spot on the grid. Bart was in the lead in the Efra class for the first time and that made him a bit nervous. Further down the field Thomas overtook Nick and started to put pressure on Bart. Unfortunately the latter made a mistake in the last lap and dropped down from first to third place. Thomas took the win and Rico Claeys managed to take second place.
The second final saw a beautiful fight between Nick and Thomas. Lap after lap Thomas was trying to overtake Nick but he had no intention to give the first place away. Rico was following the two but was never in the position to put pressure on Thomas and Nick. So Nick took the win just in front of Thomas and Rico.
The third final would be decisive for the win. Bart Van Sande took the lead but Nick passed him in the third lap. Thomas tried to follow but had a hard time to overtake Rico. Meanwhile Nick was far ahead and managed to take the win. Thomas behind was fighting hard and came in second in front of a happy Rico. This gave the overall result of Nick Joosens (Yokomo) taking the win with Thomas Stockman (Xray) second and Rico Claeys (Xray) in third place.
Thanks to Krist Bultynck for sending the report.
---