August 27, 2013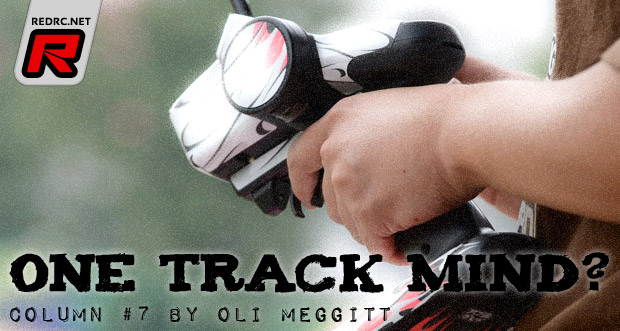 One of the difficult things I often face when I talk about RC racing to my non-RC friends (yes, I do have those!) is explaining that we have different scales of car, electric and nitro powered, on road and off road…. Last time I checked there was something like a dozen reasonably distinct classes.  And that's before we even look at Stock or Modified variants of the same class.
The best analogy I've come up with is to liken it to Athletics.  There's a multitude of different events – sprint races, hurdles, long distance.  Although the basic qualities to succeed in the various disciplines are similar (ie, being able to run quite well!), each event is unique.  And then we've got the field events, again requiring similar qualities (being able to jump or throw), but each with their own distinct techniques that set them apart.
It's very rare to see an athlete excel in more than one event, because of the subtle differences between them.  It's very similar in the RC world – generally speaking drivers focus on one class and don't tend to compete at a high level in multiple classes.  Some obvious exceptions are the increase in drivers competing in both 1/8th Nitro off-road and 1/10th electric off-road, but I don't think it's a long stretch to notice the similarities in the key skills required being similar.
I do wonder why we have "class specialists".  I guess the simple way to look at it is that every class has a slightly different driving technique required to get the absolute best from the available power, grip level, track type and so on.  With driving and setup skill becoming ever more important as races seem to get closer and more competitive, focussing solely on a single class will surely allow a driver to spend more time and effort on extracting those last, vital, tenths of a second of lap time from their equipment and their ability.
As each class becomes more competitive, so to does it become more specialised.  Whilst general setup rules and knowledge can carry between classes, knowing how the theory is put into practice becomes key.  A driver racing (competitively) in two classes, rather than just one, will essentially have half the amount of time they are able to spend on each compared to a driver just focussing on a single class.  At almost every level, twice the amount of time (and thus effort) is a huge difference and advantage to have.
Of course, having said all that, there are a few drivers who are able to succeed in multiple classes.  But I do have to wonder whether they are extracting the absolute best they can from all those classes, or whether they are sacrificing a potential improvement in one class to appease a sponsor or a personal desire to compete in another class.
I'm sure at this point there will be some people shouting at their screens that I've ignored something rather obvious.  Linking back to my original analogy with Athletics, there are of course multi-discipline events – the Heptathlon and Decathlon.  People who have managed to master a range of different skills and techniques and yet remain competitive at all of them.  In RC racing, there are a select few drivers who do manage to compete at the highest levels in a very diverse and expansive range of classes.  So I'm just going to completely contradict everything I've written above by ending this article with just two words.  Probably the two most popular words on the RC internet in the last fortnight.  Atsushi Hara.
Have an opinion on the topics discussed? Leave them in the comments below.
Oli Meggitt is a race organiser, announcer, RC racer and has also been known to stand and talk in front of a camera. Now a columnist for Red RC you can read his thoughts, insights and ramblings fortnightly.
The views and opinions expressed in this column are those of the author.
---