August 28, 2013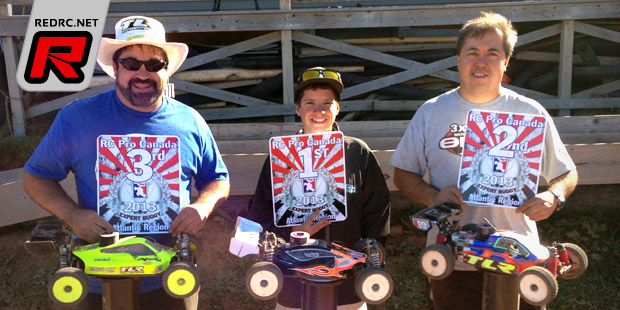 The last round of the RC Pro Canada Atlantic division series was held at the Red Clay R/C Clubs track in Charlottetown, Prince Edward Island. The points contention were open to a few drivers based on the final results of round 4. Yannick LeBlanc ended up TQ-ing the 1/8 Nitro class but at the start of the 30 minute final A main, 20 seconds from the start a sudden flame out on Yannick's car forced a panic rush back to the start box by the pit crew. The starting grid pack ended up leaving on the horn and Yannick got to the track within 7 to 10 seconds of the start. With determined patience and clean driving, within 7 laps, Yannick was back at position 1 where he had to battle to hold the lead. There was a fierce battle for second which ended up allowing Yannick to extend his lead and claim the victory with a 2 lap safety net in front of Shane Foote and Laurie Cormier. This win also secured Yannick the overall championship title.
Top 3 result
1. Yannick LeBlanc – Team Durango/Novarossi/AKA/O'Donnell
2. Shane Foote – TLR0/Novarossi/AKA/Strike team
3. Laurie Cormier – TLR/Orion/AKA/Sidewinder Pro
Thanks to Dan LeBlanc for sending the report.
---