August 8, 2013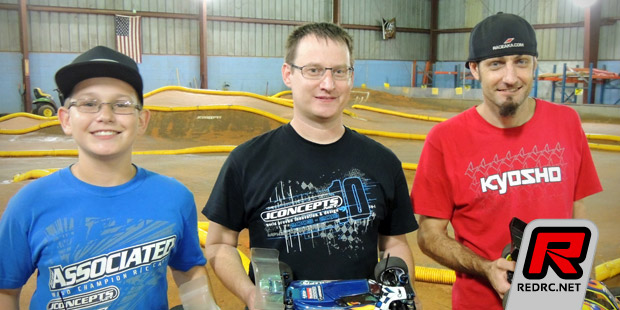 The Fall session of the JConcepts Super Cup started off with a bang on Saturday August 3rd at Space Coast RC in Cocoa FL. Shiverville Raceway was the original scheduled host for this race but with three weeks of rain taking a toll on the track, SCRC was asked to help out with a quick location change and only one week to prepare. SCRC Track owner, Angel Echevarri accepted the race and had the track ready for the 195 entries that began to arrive on Friday afternoon.

Racing started promptly at 9:30 with 24 heats to be ran. The Novice class was up first, 9 racers traveled from North and South to battle and gain much valued experience. Jerry Taylor just edged out Troy Earmen for the TQ spot with 10 laps in 5 minutes 12 seconds. Troy was able to lead at the tone, but 9 year old William Adams from Jacksonville FL was able to take over the top spot on lap 3. William held on until lap 7 when Jerry Taylor moved back to the point where he stayed until the tone. Jerry Taylor was 1st, William Adams 2nd, Troy Earmen 3rd, Jenny Gaughf 4th and PJ Wilkinson 5th.
It was a large group of racers for the Modified 4WD Buggies with 25 entries in total. Kyle Watts, Ken Bills, AJ Marasco, Chris Schaefer, Scott Johnson and RC Joe all went up and down the scoring sheets lap after lap with Kyle and Ken on top for the 2 bump spots into the B main. Owen Watts walked away with the win, but Kyle and Ken once again fought along with Angel Echevarri and Matt Lardizone for the final bump spot. In the end it was track owner Angel Echevarri just edging out Matt for the final bump.
The A Main had the best 4WD drive buggy racers in the state with Ryan Eckert on top for the tone with a 14/5:16.771 time. This race wouldn't be decided until the very end as Jason Ruona, Damion Borkowicz, Ryan Eckert and Brett Kingsbury all ran low 22 second lap times. As 3 of the racers lap after lap swapped for the lead in the end it was Jason Ruona just edging Damion by 0.313 seconds and Damion nudging past Ryan by 0.373 seconds. Brett was in the 4th spot and Austin Venezia in 5th with a great come back drive after falling to 8th on lap 2.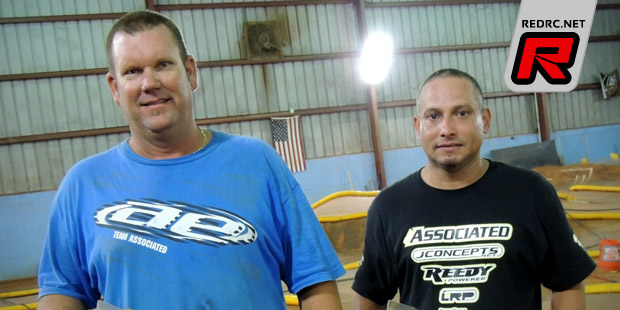 Stock 2WD buggy had 35 entries on the day and as always it was very tight up front. Top 8 for the A Main were separated by less than 30 seconds as Don Haywood TQ'd with a 13/5:21.911. Matt Bradford Jr lead the charge in the D Main, but Aidan Magnus was the one taking the win and Matt with the final bump spot for the C Main. Neil Sandoo and Travis Adams finished 1 and 2 in the C to make their way into the B. Rich Schafer and George Mercardo fought for the final bump spots into the A Main. Don Haywood was not to be denied as he lead from tone to tone, Andy Darby finished 2nd followed by "The Godfather" Ruffy Rios 3rd, Jovan Cruz 4th and Donavan Hughes in 5th.
Modified Buggy was packed with 33 racers; D Main winner was Kyle Watts and runner up Randy Enger making their way into the C Main that had a great battle between Alan Wight, Tim Smith, Billy Bruce and T.J. Bradley. After many position changes back and forth it was Alan and Tim into the B main. As the final 10 racers battled for the final 2 spots in the A Main, Zack Genova walked away with the race win while Ryan Eckert and Jeremy Harris battled for the last bump spot. Ryan came through the field in 6th starting spot but Jeremy didn't give away 2nd spot as he and Ryan fought for the spot until the very end winning 2nd by just over a second.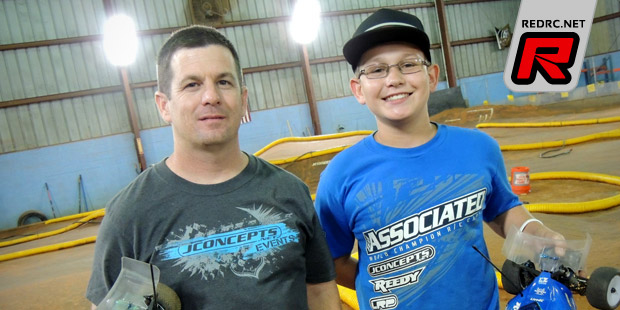 In the A Main, Billy Easton lead all of the 14 laps but Paul Wynn made him earn every lap, Daimon Borkowicz was hot on the heels of Paul for the two spot; Paul was able to hold off the hard charge of Borkowicz as they finished 2nd and 3rd behind race winner Bill Easton. JR Mitch and bump up Ryan Eckert battled for and few laps with JR 4th and Ryan 5th.
21 racers would do battle in Stock 2WD Short Course. As the C Main tone sounded Tommy Dionese and Ron Viesins bumped into the B Main. Travis Adams and Mark Papero raced their trucks into the show. Riker Gatenby TQ'd with a 12/5:06.674 time. Riker lead every one of his 13 laps for the race win but had to hold off a challenge from Peyton MacDonald who took the 2nd spot. Jovan Cruz finished the day in 3rd with Tilar Pollock 4th and Travis Adams from the 9th starting spot in 5th.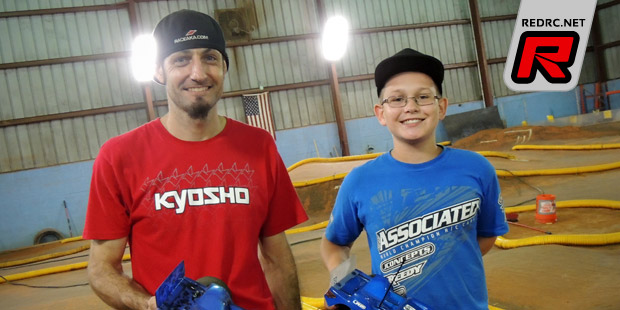 Modified Truck had Daimon Borkowicz in the TQ spot with a 13/5:12.759 time over the 9 truck field. Ryan Eckert didn't let Daimon off with an easy win as Ryan took over the lead on lap 8 but Daimon fought back and was back in front on lap 10 as he raced his way to the win with Eckert 2nd, Tim Smith 3rd, Darrell Gaughf 4th and Dan Witkoski rounding out the top 5.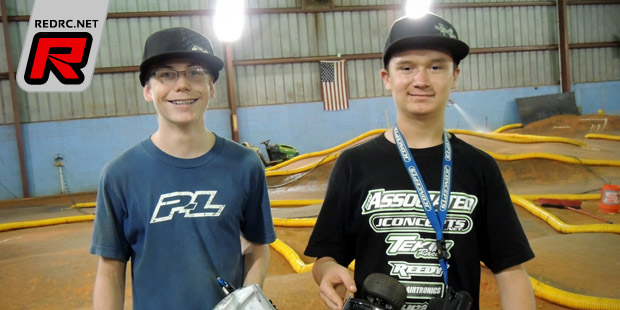 Stock Truck had a 13 truck field with Tommy Dionese, Brandon Denmark and Jeff Lynn having a great battle in the B Main, with Tommy and Brandon off to the A Main. Tilar Polock was the Top Qualifier with a time of 12/5:03.104. Tilar lost the lead to Riker Gatenby on lap 2 and slowly closed back in on Riker but there just wasn't enough time on the clock as Riker race for his 2nd win of the evening. Tilar was 2nd, George Mercardo 3rd, Kevin Abbot in the 4th spot and Tracy Carver 5th.
40 and over had 10 seasoned racers show some of the young guys they still have what it takes to put down the fast laps. Rich Schafer led every lap of the A main from the TQ spot with a 12/5:01.757 time. Walter Cruz made his way up to 2nd with Glenn Carlson in 3rd, Ken Shiver 4th and George Gatenby in 5th for the night.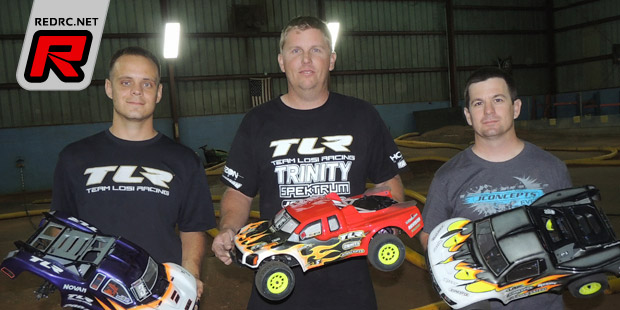 Pro 2WD Modified Short Course had 10 entries with JR Mitch being the top qualifier at 13/5:16.577. He took his JConcepts equipped TLR SC on a tear in the A Main with Paul Wynn and his JConcepts equipped AE SC10.2 hot on his bumper. As the clock expired JR was able to edge out Paul by just 2.8 seconds. Leon McIntosh was in the 3rd spot with Chris Viesins 4th and Ken Bills just beating Walter Cruz for 5th.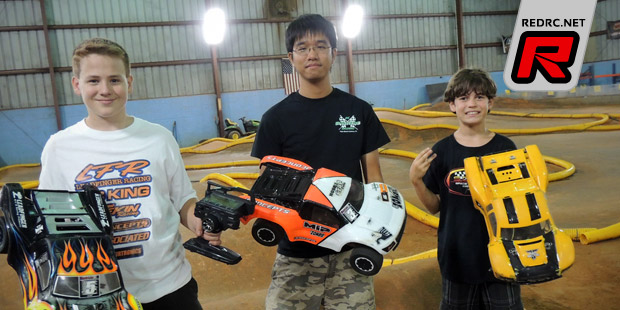 Pro 4WD Short Course had 15 trucks with Felix "more power" Law in the top qualifier spot when he paced his JConcepts/MIP equipped truck to a time of 13/5:11.018. The B Main saw Travis Adams from the 5th starting spot race to the win and George Gatenby just beating Jim Hess back to the line for 2nd as George took the final bump. The A Main showed one of the best battles of the night along with a great show of sportsmanship. Felix Law a veteran to 4WD SC was followed by newcomer to 4×4 Peyton MacDonald. Peyton was right on Felix's bumper for 11 laps learning and watching, then on lap 12 he made his move to the race lead as he dove to the inside to move past. As he and Felix hit the double in front of the driver stand they tangled and Peyton made it back to his wheels first but waited for Felix as Peyton caused the accident. One more time they battled corner after corner until the last lap when the 2 were overtaking lap traffic they tied up again, once more the youngster waited on Felix so they could battle until the end. Felix was able to hold Peyton off back to the line for the win and Peyton in the 2nd spot. Trey Roberts was in 3rd with Ken Bills 4th and Paul Boyce 5th.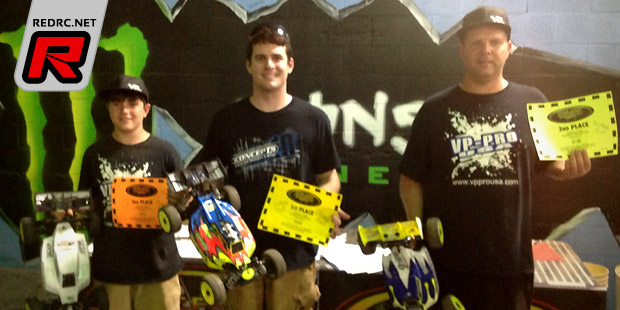 Another great battle came from the 11 entries in 1/8th eBuggy. JConcepts driver, Brett Kingsbury was the top qualifier with his time of 14/5:20.553. AJ Marasco jumped into the lead on lap 2 where he and Gene Hickerson battled back and forth for the race lead. Brett wanted to do it the hard way, as he fell to 5th on lap 2 and then turned on the afterburners. By lap 5 Brett had made his way back into 3rd but had a lot of track to make up. Laps went by and the gap closed as he made the pass on AJ for 2nd on lap 10. It looked as if Gene had it locked up but Brett wanted the win he had about 5 laps to catch Gene, he made it to Gene's bumper on the last lap diving high and low to find a way past when on the last few corners Brett made his way past for the race win. Gene finished 2nd, AJ 3rd, Scott Johnson 4th and Tony Nicotra 5th.
JConcepts looks forward to seeing everyone at Round 2 of the fall session, as Brian Buckley and the newly expanded Bashers RC Raceway will be the hosts on October 25th-26th.
Source: JConcepts [jconcepts.net]
---