August 24, 2013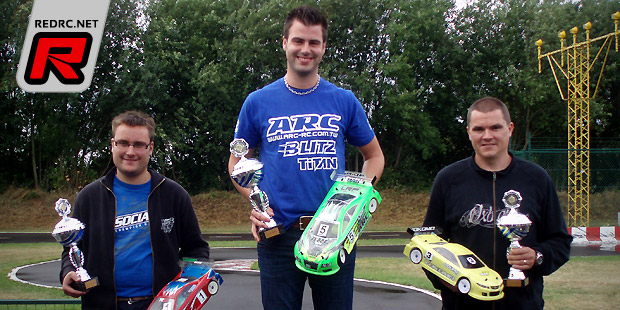 During the 6th round of the Belgian electric touring car championships it was Gregory Werniers who took TQ in the Superstock class. A strong Olivier Riffon managed to put his car on the second spot with Christophe Charlier ending up in third place after the qualifiers. At the start of the first final Christophe Charlier was hit by trouble forcing him to start late. Meanwhile Gregory was in the lead and Olivier Riffon made a mistake in lap 2. Geoffrey Vekemans was hunting Stephane Roufosse and Gregory was not able to get away from Stephane and Geoffrey. Gregory made a mistake in lap 8 and Geoffrey took the lead after passing Stephane. This handed him the win in front of Stephane and Gregory.

The second final saw the same drivers fighting for the win. Gregory had the best start and kept the lead till the finish. Stephane drove a very clean race and kept Geoffrey behind to take second place while Geoffrey tried everything but couldn't pass Stephane so he ended up in third place. Also the third final was a battle with the same three drivers. Gregory was in the lead but Geoffrey was strong and after passing Stephane he took the lead after finding a way past Gregory. So Geoffrey took the win in front of Gregory and Stephane who came in third after battling with Christophe Charlier. This gave the overall result of Geoffrey Vekemans (ARC) taking the win with Gregory Werniers (Associated) in second and Stephane Roufosse (Yokomo) third place.
Thanks to Danny Vekemans for sending the report.
---