September 10, 2013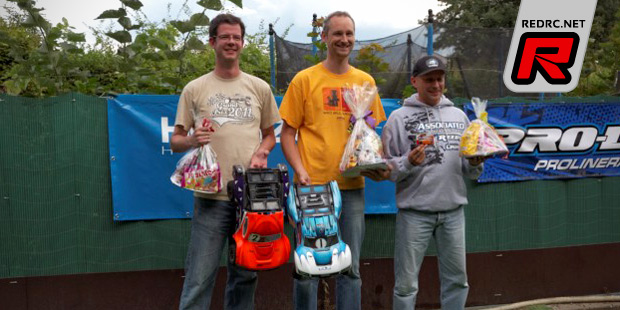 For the fifth round of the Belgian SCT Cup the drivers travelled to the iconic Kampenhout track that was as challenging as always with its elevation changes, off camber turns and different track surfaces. As usual, the Heremans's ensured a smooth organisation and the day went flawless. The first qualifier was run on a wet track but once the sun came out the surface started to dry. Nicolas Evens (TLR 22SCT) TQ'ed the first two runs while Jean-François Renard (TLR 22SCT) took the last one. Behind the two Edouard-Benoît Michez, Philippe Hautecoeur and Cédric Vandeginste, all running Associated SC10's, battled for the remaining top 5 spots.

After difficulties to find a good pace in qualifying, Ronald Dupont (Associated SC10) easily won the B main in front of Geoffrey Iiljas (Losi XXX-SCT). In the A mains, Nicolas Evens took the first two legs in front of Jean-François Renard. Both had a similar pace and only error-free runs allowed Nicolas to stay in front. The third place went to Philippe Hautecoeur (Associated SC10) after a good fight with Edouard-Benoît Michez (Associated SC10). Julian André complete the top 5 showing an increasing performance during the season.
Top 5 2WD SC
1. Evens Nicolas – TLR
2. Renard Jean-François – TLR
3. Hautecoeur Philippe – Team Associated
4. Michez Edouard-Benoît – Team Associated
5. André Julian – Team Associated
In 4WD Hong Nor team driver Raphaël Robert (Hong Nor Nexx10 2.0) was able to take the TQ like last year, in front of Walter Grauwels (Associated SC10) and Willem-Jan Keyaerts (Team Durango DESC410) – these three drivers also made out the podium last year. In the A finals, Willem-Jan won the first leg from Raphaël while Rudi De Brouwer (Team Durango DESC410) came back from sixth place to complete the top 3. The second heat had a bit more drama to offer with Raphael retiring due to a broken truck while Willem-Jan had radio issues. This left Rudi De Brouwer in the lead, followed by Nicolas Evens (TLR Ten-SCTE 2.0) and Walter Grauwels. In the final leg everything went back to normal with the fastest guy in front, Willem-Jan, followed by Raphaël. Third place went to Nicolas with Walter in fourth and Rudi in fifth, all three separated by less than 1.5 seconds. At the end the overall win went to Willem-Jan with Rudi and Raphaël completing the podium.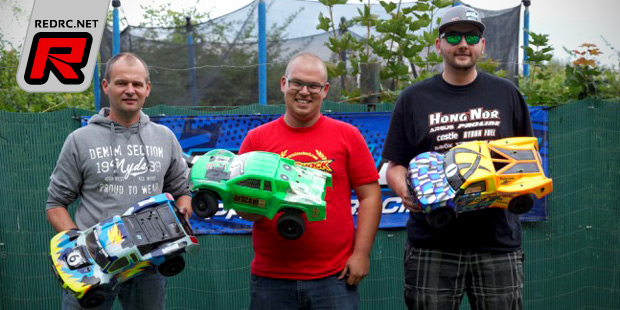 Top 5 4WD SC
1. Keyaerts Willem-Jan – Team Durango
2. De Brouwer Rudi – Team Durango
3. Robert Raphael – Hong Nor
4. Evens Nicolas – Losi
5. Grauwels Walter – Team Associated
Source: Belgian SCT Cup [belgiansctcup.be]
---