September 23, 2013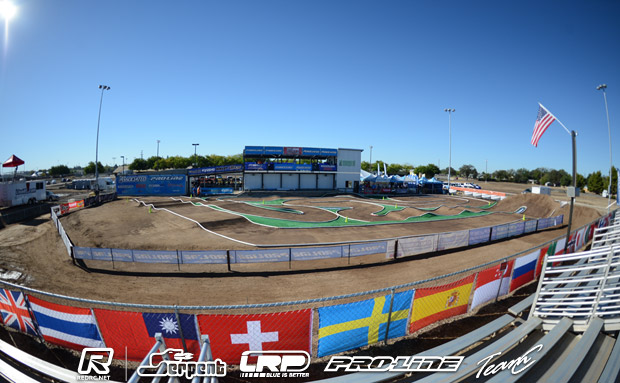 UPDATE (10:30 local time) – Due to the track having not fully dried the start has been now put back a further 2-hours to 13:00 local time.  We have been informed too by Masami that a recommendation has been made that timed practice be determined over 2-consecutive laps as the lap times are expected to be in excess of 30-secs.  The second delay to the start of the event means Day 1 will run under flood lighting so as to allow them get fully through the already reduced 7 rounds of practice.
—————————————————————
New to our event coverage we will post a short update under the heading 'From Race Control' at the start of each day giving a short run down of what lies ahead for the drivers.  Today is the first day of action at the 15th IFMAR 1:10 Electric Offroad World Championships here in Chico, California with seven 5-minute practice rounds on the schedule, down from the 10 rounds originally planned.  Due to heavy rain two days ago which resulted in the Silver Dollar RC Raceway track surface requiring to be repaired and sugar treated, the start of the first day of 2WD action has been delayed until 11:00am local time to allow the track to dry.
Click here to continue reading
---