September 30, 2013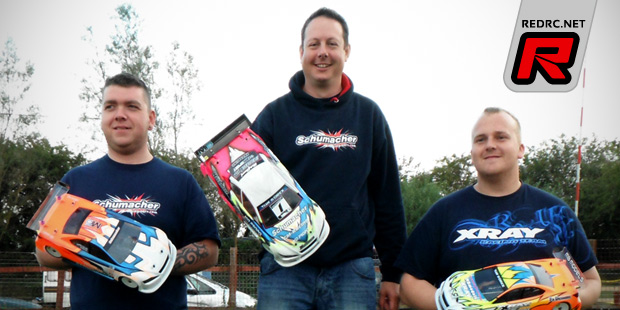 The final race of the 2013 BRCA Touring Car Championship took place at the Mendip circuit. Schumacher's Chris Grainger has battled all year with Elliott Harper for top honours; Elliott took the first two races at Cotswolds and Stafford but a win for Chris at West London and strong runner up performances keeping up the pressure on Elliott meant that going into the final round at Mendip this last weekend it was all to play for. Chris secured the TQ honours over the five rounds of qualifying ahead of Elliott, with James Hart 3rd and Colin Price 4th.

After two battling legs of the A final Chris had one win and Elliott one, so going into the final race it was all to play for both the race win and also the championship win. Chris was pushed hard by Elliott through the first 2 to 3 minutes until a small touch on the grass from Elliott span the Durango and left him way down the field. Chris had the release of pressure allowing him to cruise to a second leg win with his team mate Colin Price behind and therefore overall win of the meeting. The win for Chris and with Elliott not able to finish second gives Chris the overall BRCA National Championship for 2013.
Top 10 result Modified
1. Chris Grainger – Schumacher
2. Colin Price – Schumacher
3. James Hart – Xray
4. Paul Pinkney – Schumacher
5. Elliott Harper – Team Durango
6. Stefan Chodzynski – HPI
7. Zak Smith – Team Associated
8. Ben Cosgrove – Team Durango
9. Chris Kerswell – Serpent
10.Olly Jefferies – Team Associated
In the Pro Stock Class Zack Finlay has dominated the season and also won this race comfortably, behind him it was the battle between Lee Price and Mark Wallace. Lee took the honours and the top bragging rights in the pro stock team with Mark Wallace 3rd and Rob West 4th. So Zack won the overall championship with Mark Musgrove second after a great season, with Mark Wallace third.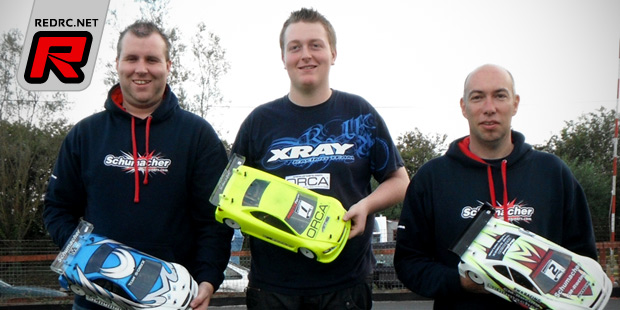 Top 10 result Pro Stock
1. Zack Finlay – Xray
2. Lee Price – Schumacher
3. Mark Wallace – Schumacher
4. Rob West – Schumacher
5. Tony Broad – Capricorn
6. Reece Hodges – Xray
7. Tim Langdell – Tamiya
8. Ben Putt – Team Associated
9. Mark Musgrove – Schumacher
10.Chris Gunter – Team Associated
Source: Schumacher [racing-cars.com]
---