September 17, 2013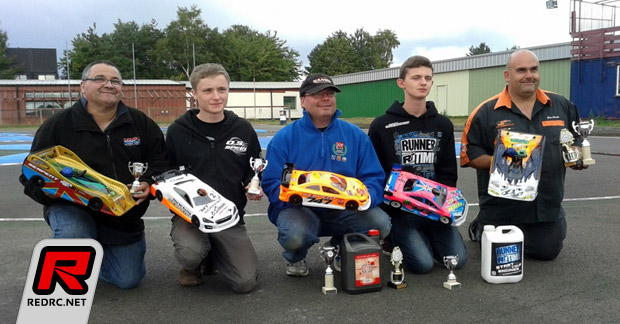 Round 8 of the British 200mm nationals was held at the Snetterton circuit last weekend. The weather forecast did not look good for both Saturday and Sunday but surprisingly the field managed to get through the event with only a couple of short showers. Unfortunately the track rarely gets used throughout the year so it was very slippery when drivers arrived on Saturday morning. It was well into the afternoon before the grip came up and it was at this point where the lap times got quicker and quicker right up until the end of practice. Mark Green was setting the pace fresh from his podium finish at the European Championships by getting down to 12.4 laptimes. Serpent teammates Joe Kerry and Alex Thurston were also very quick only 0.1 seconds behind Mark. At the end Mark took the TQ just 1.5 seconds ahead of Joe, with Alex a further 2 seconds behind. These three drivers were the only ones able to make 24 laps.
Qualifying results:
1. Mark Green – Serpent/Novarossi/Xceed – 24L 306.52
2. Joe Kerry – Serpent/OS/Xceed – 24L 308.09
3. Alex Thurston – Serpent/IDM/Contact – 24L 310.51
4. Matthew Cook – Hot Bodies/OS/Contact – 23L 306.13
5. James Conolly – Serpent/Novarossi/Xceed – 23L 310.00
6. John Zottl – Shepherd/Sonic/Matrix – 23L 312.07
7. Stefan Chodzynski – Hot Bodies/LRP/LRP – 22L 301.17
8. Chris O'Donoghue – Capricorn/Capricorn/Capricorn – 22L 304.86
9. Michael Ball – Xray/Novarossi/Contact – 22L 308.01
10.Paul Bellinger – Serpent/Xceed/Xceed – 22L 311.78
Just before the start of the final several black clouds had started making their way over to the track so some drivers decided to take wet tyres with them into the pits. The final got away in grid order and right from the start Mark, Joe, and Alex immediately pulled away from the rest of the field. After a couple of laps Mark slowly began edging away from Joe who was in turn edging away from Alex. The first and only casualty of the race was Paul Bellinger who had to retire at the halfway point. Around 5 minutes from the end it started to rain which slowed everybody down considerably. Everybody continued on their dry tyres and at the finish Mark took the win 1 lap ahead of Joe with Alex 2 laps further back making it an all 747 Serpent podium.
In the 220mm class it was Glyn Beal, who already secured the 2013 British Championship title, who set the bar being the only driver to post 25 laps in qualifying. Even team mates Dickey Boult and Adam Crossland could not match Glyn's pace. Leading the pack away for the 30 minute A final, Glyn played with the other finalists by allowing a few changes of leader whilst maintaining a watching brief just behind. Eventually Glyn decided to make his move, powering through to take the lead, open up a two lap advantage and take a comfortable win.
Source: Serpent [serpent.com]
---