September 9, 2013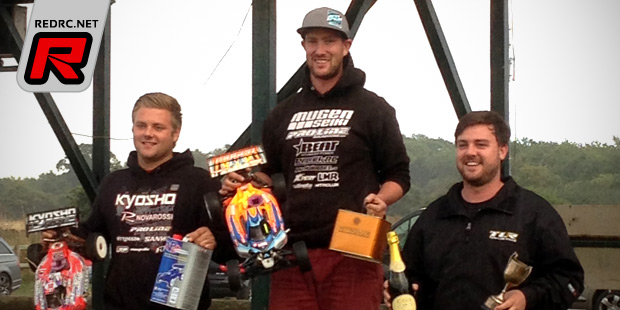 The fifth and final round of this year's BRCA 1/8th nitro buggy nationals took place at the Slough RC track, oldest on the calendar for the BRCA national series. A few drivers could still win the championship, and Mugen's Lee Martin was the one driver who had it in his own hands. Regardless of any result, if he finished 5th or higher, he would win the series in 2013. The track was prepared in the weeks before the race and early on the track was dusty and loose, with contrasting smooth and bumpy sections. Due to the abnormally good summer weather in the UK, it had caused the tracks surface to be very dry and it needed a lot of water. The track had a couple of new features and corners to make it a little different from normal.

In qualifying the track was rewarding guys that were able to drive the track clean, and not many people had consistent clean runs. Darren Bloomfield (TLR) was looking comfortable and fast around his local track, taking TQ after qualifying was finished. Kyosho's Elliott Boots and Lee Martin (Mugen) came in second and third respectively.
Qualifying result
1. Darren Bloomfield – TLR/-/AKA
2. Elliot Boots – Kyosho/Novarossi/Proline
3. Lee Martin – Mugen/Beat/Proline
4. Neil Cragg – Associated/LRP/Proline
5. Graham Alsop – HB/Bullet/HB
6. Tony Truman – Agama/Bullet/Beta
7. Jack Embling – Mugen/Beat/Proline
8. Karl Jackson – TLR/Novarossi/Beta
9. Richard Barton – Agama/Bullet/Beta
10.Jon Hazlewood – Agama/Bullet/Beta
The weather was looking dangerously like rain was approaching for the upper finals but both semi finals ran in dry conditions with Elliot Boots winning semi A quite comfortably in front of Neil Cragg. Semi B would be where the drama unfolded. On the early laps of the final Darren Bloomfields car would come to a sharp stop while leading, collecting myself and multiple cars behind. Darren would be out of the race with clutch bearing failure and Lee Martin and Jack Embling would be down in the pack, fighting for positions while Alsop got away clean and had a large gap to 2nd. As the race went on Lee pulled Alsop in, made the pass and was able to gap him to the finish, Jack would also fight back and secure his 5th national A main of the year. With Darren unfortunately now out of the running, Lee Martin only had to finish 9th or above to claim the championship.
At the start of the 45 minute main everyone got away clean. After a few laps Lee would be up to 2nd about 10 seconds down on a fast running Boots. Mid race the rain started to fall and Lee start to play cat and mouse with Elliot, some laps he pulled away, others the Mugen driver pulled him back in a little. Lee played the race very safe as he knew what he needed to do in order to claim the championship and now was not the time for heroics. Lee's car seemed to get better and better through the final as the track conditions changed. His pit crew of Jon and Alan Dell were also playing everything safe, actually pitting two times more than they needed too and making very cautious stops with no need for urgency. At the end Lee crossed the finish line in 2nd place to claim not only his first ever BRCA 1/8th national title, but also Mugen's first. Elliott Boots (Kyosho) took a clean 1-lap win with Neil Cragg completing the podium.
Championship top 3:
1. Lee Martin – Mugen/Beat/Proline
2. Elliot Boots – Kyosho/Novarossi/ Proline
3. Darren Bloomfield – TLR/–/AKA
The Junior title was wrapped up by Jack Embling with Ashley Owen claiming the Clubmans title and an entry to next year's EFRA Euro A.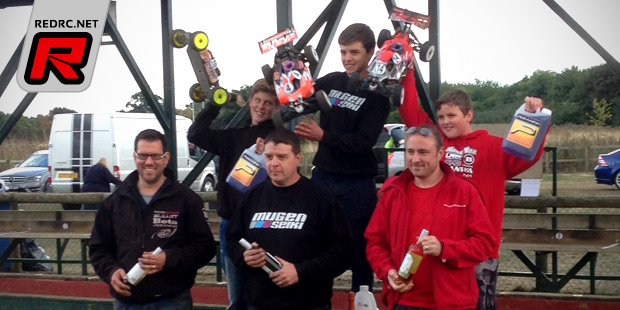 Source: LMR [l-m-racing.co.uk]
---